July 05, 2016
Huntsworth Health


Huntsworth Health, one of the industry's fastest-rising networks, enjoyed a stellar 2015, with double-digit revenue growth fueled by strong performance from digital consumer shop Evoke Health and a return to growth for medical-communication agency ApotheCom. And it's off to a fast start in 2016, with the opening of two new agencies under its roof.
The additions grow its number of agencies to eight, from six at the end of 2015. To its existing brand slate — ApotheCom, Audacity, Axiom, Evoke Health, Nitrogen, and Tonic — Huntsworth added Traverse Healthstrategy, a digital-consulting company, and Firsthand, a full-service digital shop. Those two new offerings will operate within Evoke Health, Huntsworth global CEO Neil Matheson reports.
According to Matheson, Huntsworth's preference is to start businesses from scratch, rather than buying them. "Acquisitions are difficult," he explains. "It's very hard to integrate another company's capabilities into your organization quickly. Success is about having the right talent, chemistry, and mix."
To that end, Matheson believes the Huntsworth network's efforts to integrate capabilities and foster interagency collaboration will put the company in a strong position moving forward.
"My vision is that we become a group of agencies that are known for our ability to work closely together and in an integrated way," he explains. "Clients need to see us bringing whatever resources they need to the table in a seamless way." As part of realizing that vision, Huntsworth Health holds a global leadership summit every year to help agency leaders share best practices and uncover new ways to work together.
Huntsworth's client roster includes most large pharma companies, Boehringer Ingelheim, AstraZeneca, Roche/Genentech, Novartis, Amgen, and Allergan among them. While he declines to share specifics, Matheson touts the company's work on oncology, immunology, vaccines, and diabetes brands and projects.
The group's leadership changed in 2015 when David Dunn, previously head of the ApotheCom Group and CEO of Nitrogen, departed the company. Until a replacement is named, Matheson will serve as inter­im CEO of Nitrogen. Elaine Ferguson, previously of inVentiv Health, has been tapped to lead ApotheCom as global CEO.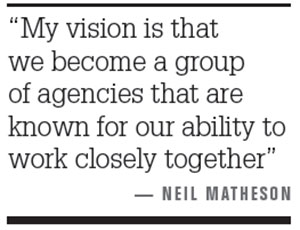 Matheson says that Huntsworth execs have noticed an increased demand for "programs that really move the needle." The industry, he continues, "has moved beyond doing 30 or 40 tactical programs and hoping that one of them sticks to being more focused on activities that are going to deliver the right message to the right audience in the right channel."
Going forward, Matheson says Huntsworth's biggest obstacle will be to resist the allure of shiny new objects — a great majority of which might not have a bearing on clients' business. "It's about focusing on the things that are really relevant rather than on the latest gimmicks," he says. "As technology continues to explode, there are going to be a lot of potential opportunities that can't be quantified in terms of their real impact."
As an example, he points to Fitbit — a success, but hardly the game changer for healthcare many thought it would be. "It was going to change the way healthcare is delivered, and it may very well still do that," he continues. "But if we jumped on that bandwagon, we would go down a dead-end street.
"You have to be able to distinguish between what's interesting and great to read about versus what's practical and of real importance to patients," he adds.
Scroll down to see the next article