July 05, 2016
Sentient Interactive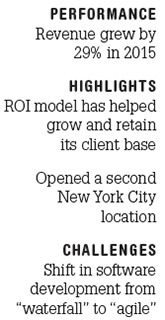 While plenty of agencies talk about how they provide sublime ROI, Sentient Interactive's approach to it is a little different. When cofounders Adam Cossman (partner, president), Jeff Rohwer (partner, strategy) and Walter Stevenson (partner, operations) set up the agency eight years ago, they set out to build it around two unique differentiators. "First, a very transparent model for clients. What we think you're going to get for your investment, that's then shown and proved. And second, a polished, results-driven methodology," Cossman explains.
The approach was borne out of the execs' pre-Sentient experience (Cossman and Rohwer boast a combined 40 years in digital-pharma experience between them). "Clients need to know: 'If I'm going to invest marketing dollars, how do I know if that's going to work?' With the sophisticated technology available to marketers now, we know how to put the right mix of marketing in place," Rohwer says.
The 55-person agency has offices in Morristown, New Jersey, and has just opened a second location in New York City. With 37% growth in 2015, on top of a 28% spike in 2014, the Sentient model appears to be resonating with clients. Cossman points to its staff as a primary reason for that success. "What's helping us scale is not just projects and clients, but people who have grown with us and allowed us to scale," he says.
The job of defining success metrics is nothing new, but the Sentient focus on it borders on the obsessive. "ROI is integrated at every single moment," Cossman stresses, noting that measurement begins before any client work does. "This isn't just an in-theory thing. It's a living document. We're all in agreement on how we measure success."
The development of that ROI model is an extensive process, he adds. "We're asking questions no other digital agencies are. We have clients asking us, 'Why hasn't our AOR asked any of these questions?'"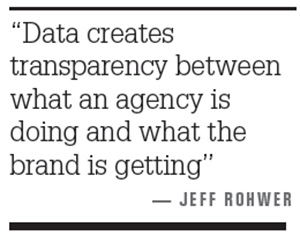 Ten percent of Sentient's business is not pharma, which Rohwer believes helps the agency as it services the other 90%. "A lot of the world outside pharma has moved," Rohwer notes. He adds that the software-development shift from "waterfall" to "agile" — away from linear development and toward a process of short phases and constant refinement — is taking place in marketing as well.
"There are some challenges around doing agile in pharma. So we've coined a phrase internally: 'phragile,' which stands for 'agile in pharma,'" he explains. To slowly introduce the benefits of agile–phragile to clients, Sentient has found success combining traditional planning with iterative projects.
The Sentient team is happy to let results speak for themselves. "We began working with a client at the beginning of last year and they couldn't understand why, when we took over a paid search campaign, we were able to use 30% less budget to drive a 40% increase in conversions to drive co-pay card downloads," Cossman says. Those numbers — the same ones that Sentient works so hard to define up front — don't lie.
"Data creates transparency between what an agency is doing and what the brand is getting," Rohwer explains.
Scroll down to see the next article