July 05, 2016
Trio


Trio has experienced an interesting last year and a half, to put it mildly. In March 2015, the agency, along with the other former ICC Lowe health brands, was consolidated into the FCB Health network. Then, earlier this year, the agency's president, Renée Wills, left to co-lead a new agency. And amid all those changes, Trio narrowed its business focus, from an integrated promotional and medical-education agency to a med-ed specialty shop.
"It's been an exciting year," says Brian Raineri, EVP, program management, med affairs and education, who now co-leads the agency with Krista Geller, SVP, scientific services and medical strategy director. "For most of Trio's existence, it's been an integrated shop that did both med-ed and HCP advertising and promotion. But the reality is that Trio has always been more widely known for med ed."
The bulk of the agency's existing promotional advertising projects were assigned to FCBCure — itself a new agency brand that was formed when FCB combined the brands previously known as ICC and Pace.
Raineri declines to provide a specific number for Trio's 2015 revenue, noting that the agency's realignment and structural changes make any such accounting a challenge. Headcount has dipped, however: At this time last year, Trio reported 75 full-time staffers, but it now counts only 50 full-timers. Raineri is quick to note that Trio accesses specialists at its FCB Health sister firms on an as-needed basis.
The year 2015 was equally eventful, in a good way, on the client and assignment fronts. Trio worked on sever­al product launches last year, including Boehringer Ingelheim's new COPD drug Stiolto Respimat and a new asthma indication for BI's Spiriva. The agency also netted work on AstraZeneca's Brilinta (for a recently approved indication) and won an AOR assignment for Daiichi Sankyo's constipation drug Movantik.
As Trio's business focus has shifted, so too has the way it goes about its business. This has less to do with the restructuring than it does industry and market forces, however. "Clients are closely looking at their spending, especially with med ed," Raineri notes. "Everything we are putting forward has some level of metrics associated with it, so that clients can see the value that these educational efforts bring."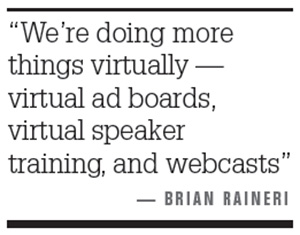 He adds that the increasing competition for the attention of doctors has also had an outsize impact. "That, coupled with decreased budgets from our clients, has led to fewer of the traditional live dinner programs and live ad boards. Now we're doing more things virtually — virtual ad boards, virtual speaker training — and more things like webcasts," Raineri notes.
Part of the shift from live to virtual comes in the wake of the Sunshine Act, which tracks payments physicians receive from pharma. "Increasingly, a lot of institutions won't allow doctors to participate in certain programs," Raineri says. "The payments associated with those types of [virtual] programs are generally smaller. That's an advantage for the client and an advantage to the HCP from a reporting perspective."
As health systems crack down on the amount of time industry can spend with physicians, Trio has found a new niche — unbranded programs — and running them at untraditional times during a product's lifecycle. "Now we're seeing a lot of activity," Raineri says.
Scroll down to see the next article