August 08, 2013
A Parkinson's app for patients that took its cue from HCPs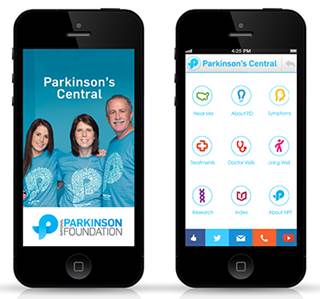 Just over three weeks after launching its free, patient-centric app, the National Parkinson Foundation is preparing version 2.0. Download numbers for the Android version of the app, called Parkinson's Central, are still being tallied, but the iOS version hit 1,100 downloads two weeks after launch. Grant money from Teva and AbbVie supported the creation and design, but neither company has any content input.
Parkinson's Central came about for one key reason: patients kept downloading the app that NPF launched in 2011 for healthcare professionals, the foundation's head of research, Dr. Jorge Zamudio, told MM&M. This version, called Parkinson's Toolkit, was a springboard for the new app. A team of three, including Zamudio, a movement disorder specialist, and a Parkinson's patient wrote and edited all of the content for the consumer version.
Zamudio said the patient would edit the doctors' work and vice versa to ensure copy was accurate and made sense from a non-professional perspective. An outside editor monitored the complexity to keep the literacy level accessible.
Both apps incorporate feedback from users. Zamudio says content requests roll in on a steady basis and have helped shape what users see. For example, Zamudio said a Parkinson's patient emailed that their dentist needed guidance treating individuals with Parkinson's, so the foundation created copy to meet that need. He says that doctors also contact the foundation about information patients could benefit from, and that, too, can find its way into the app.
To get the word out on the app, NPF is set to launch ads on WebMD's Parkinson's Disease Health Center, and will also run ads on Facebook.
In the meantime, the group considers its Centers of Excellence and local chapters as key marketing tools, said marketing and communications VP Leilani Pearl. Doctors at the 39 centers, which are largely in the US, see about 50,000 patients a year and share information about the consumer app with other doctors, Pearl told
MM&M
. At the same time, the foundation is asking chapter volunteers to let doctors know that the app is available.
Scroll down to see the next article