May 15, 2012
Coach vs. cancer in BMS-backed awareness effort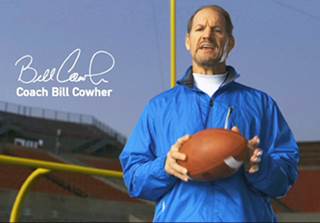 Former Steelers coach Bill Cowher is fronting a Bristol-Myers Squibb-backed "Melanoma Exposed: Screen. Protect. Know. Tell" awareness campaign.
The campaign will offer free public skin screenings at Giants, Dolphins, Broncos and Ravens games. It's aimed at men in particular, since nearly twice as many men die from the cancer each year as do women. Cowher, whose wife died of melanoma in 2010, told ESPN: "Men are naive to their bodies," Cowher said. "They don't pay attention to their skin like women do."
The launch of the campaign by BMS and a host of patient advocacy groups was keyed to the release of a survey showing widespread ignorance among Americans about the disease. Researchers found that only 10% of Americans were concerned about the disease, with which 70,000 are diagnosed annually, and more than half don't know that multiple moles are a risk factor for melanoma. Two-thirds say they don't conduct skin self-examinations.
The campaign website,
MelanomaExposed.com
, encourages visitors to "Throw a forward pass" and share a link with friends through Facebook. There's also a game app dubbed Goal Post Avenue.
Scroll down to see the next article