December 11, 2009
Frank Corbett, medical advertising great, dies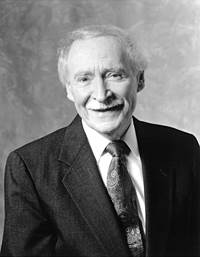 Medical advertising pioneer Frank J. Corbett passed away Wednesday, December 9. He was 92.
Corbett was a founder of the Chicago-based agency network known today as Corbett Accel Healthcare Group and one of the early greats of medical advertising account management.
Growing up in Manhattan, Corbett worked as a delivery boy for Cut Rate Drugs before earning a degree in pharmacy from Columbia University in 1938. After stints as an Upjohn sales rep, a sales exec for chain drugstore Rexall and a marketer for Warner and Lambert, he moved to the Midwest in 1956 and joined the Jordan Sieber agency, leaving six years later to launch his own eponymous shop with his wife, Dolores.
The Corbett agency launched with Westwood Pharmaceuticals as its corner stone client, and shortly added accounts from Baxter, Lakeside and Eaton. The shop pioneered the use of feedback mechanisms in direct mail and new media in details (Super 8 film, in this case, for Beecham's Amoxil), and was ahead of its time in advancing women to positions of authority. Frank J. Corbett, Inc. became the first medical agency to be acquired by a big consumer agency in 1972, when it was bought by BBDO (whose 1986 merger with DDB, in turn, created the Omnicom holding company). The firm became Corbett Accel in 2004, when Corbett Healthcare Group merged with Accel Healthcare Communications.
Corbett retired in 1997, but maintained an office at the shop's Chicago headquarters and came in regularly to keep abreast of business.
In 1998, Corbett was inducted into the Medical Advertising Hall of Fame, where colleagues praised him as "the 'complete professional' who put his personal knowledge to work for his clients with energy and creativity," running a "tight ship" but being "known for his warm sense of humor, the friendly work environment he created and his polite, gentlemanly manner."
Scroll down to see the next article