July 24, 2014
Gilead, Merck HCV marketing battle may be on horizon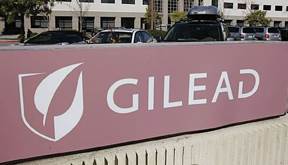 The biggest story of Gilead's second quarter was supposed to be Sovaldi's astronomical sales figures, but its progress on protease inhibitor GS-9857—which could serve as stiff competition for the asset Merck acquired in its recent $4-billion acquisition of HCV firm Idenix—may have quietly stolen the show.
The Gilead protease inhibitor could potentially span all genotypes and is "phase 2 ready," wrote ISI analyst Mark Schoenebaum in an investor note this morning, admitting that its "precise timing is unclear," but that "this is important as a counter to Merck's triplet 4 week data coming later this year."
And while Congress and payors have been quick to sermonize Gilead on the price of Sovaldi, the Foster City, CA, drugmaker's earnings report suggests those lectures have fallen on deaf ears, and have done little to keep the drug off formularies or slow down its sales.
For the second quarter of 2014, Gilead's total product sales in the US were slightly over $4.8 billion—Sovaldi total sales reached $3.4 billion with $3 billion in the US alone—meaning nearly three-quarters of the drugmaker's domestic revenue comes from that one, thousand-dollar pill. Gilead estimates that 9,000 Sovaldi patients have been cured of hepatitis C—a total they believe will grow rapidly as the drug gains traction.
Physician penetration, too, proved strong. Seventy percent of targeted doctors have written a script for Sovaldi, according to the drugmaker. As a comparison, Biogen's blockbuster MS pill Tecfidera saw 62% penetration after launch.
Despite AHIP (American Health Insurance Plans) calling for the drugmaker to lower the price, and Kaiser Permanente calling the price "outrageous," only three states are currently not covering Sovaldi, and of those remaining 47 states half require prior authorization and half require a certain level of fibrosis (i.e. liver damage).
However, of the patients treated so far, 60% had "low fibrosis scores," Schoenebaum wrote, which could signal that the hard-to-treat patient is still a pressing unmet need.
Also of note was how, and to whom, the drug has been prescribed. Sixty percent of patients treated had genotype 1 (the most common subset of the disease), and 70% of usage was for interferon-free regimens, including combination with J&J's Olysio.
Physician confidence in prescribing both drugs has Jefferies analyst Thomas Wei—in an investor note from early this morning—writing that this may portend more relaxed formularies going forward. Notes Wei, "[this] indicates payor tolerance for expensive combination therapies and raises interesting questions on pricing flexibility for the combination pill."
Gilead also noted that it believes physicians are warehousing patients in anticipation of its ledipasvir/sofosbuvir combo therapy, which received a Breakthrough Therapy designation this past April. Its PDUFA date is slated for October 10.
Scroll down to see the next article