March 17, 2010
Juvederm Facebook campaign features Dayna Devon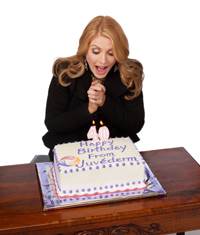 Allergan launched a celebrity Facebook campaign for Juvederm, on the heels of a new FDA approval for Juvederm XC, a formulation that contains lidocaine to make injections less painful.
The Switch Up campaign, created through a partnership with PR shop Chandler Chicco Agency, is confined to Facebook and "does not entail any media buys...or event appearances" at this time, according to Kellie Lao, an Allergan spokesperson. Ex-Extra host and broadcast journalist Dayna Devon will dispense personal tips to Facebook fans each week, and is sharing her experience with Juvederm through the social networking site.
"After my treatment, I felt rejuvenated, because I don't want to turn back the clock, I just want to look like the best version of myself," said Devon in a video, before slicing into a Juvederm-branded birthday cake. "I'm a mom, wife and TV reporter, and I plan on celebrating my 40th birthday in style," she said.
Visitors to the Facebook page can upload a photo to see how they might look after using Juvederm, find a doctor, and sign up for "customized e-mails, exclusive offers and special event invitations," according to the website.
Juvederm, a hyaluronic acid dermal filler, is a medical aesthetic used for "long-lasting correction of moderate to severe facial wrinkles and folds." Allergan also makes Botox, which received another medicinal, non-cosmetic indication on March 10th, for the treatment of increased muscle stiffness in the elbow, wrist and fingers in adults with upper limb spasticity. The company's stocks have steadily climbed—up nearly two points to 63.26 at press time —since the Botox announcement on March 10.
Scroll down to see the next article