August 20, 2009
MedImmune taps soccer champs for flu awareness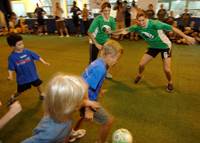 MedImmune launched a branded awareness campaign starring soccer greats Mia Hamm and Brandi Chastain to underscore the importance of getting immunized for the flu.
Hamm and Chastain kicked off the "Don't Play with the Flu" campaign with a soccer clinic in New York City today. MedImmune markets FluMist, an intranasal flu vaccine that was more effective in children than a traditional flu shot during the 2004-2005 flu season, according to the
website
.
The campaign is "very softly branded," and urges families to talk to their doctors about what type of flu vaccine – a shot or a nasal spray – is right form them, said Karen Lancaster, an associate director of PR at MedImmune. Fleishman-Hillard's digital team created the website and is handling other communications and managerial aspects of the campaign, according to Lancaster. The campaign isn't currently using paid advertising, but will hand out brochures (
here
, in pdf), and is anticipating a Facebook page, Lancaster said.
In addition to putting on the soccer clinic, MedImmune became a sponsor of the Women's Professional Soccer (WPS) league, and the American Youth Soccer Organization. MedImmune is the presenting sponsor of the 2009 WPS Championship in Los Angeles on August 22, where fans may have an opportunity to interact with WPS players, Lancaster said.
MedImmune was acquired by AstraZeneca in 2007 for $15.2 billion. AZ is currently testing FluMist's nasal spray technology for a potential blockbuster swine flu product, according to a Bloomberg
report
.
Scroll down to see the next article