September 27, 2012
Mylan expands Epi-Pen strategy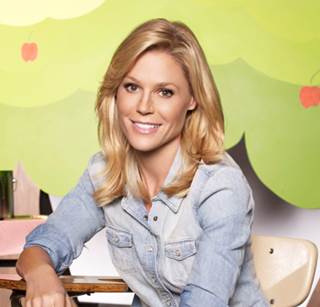 Mylan's latest allergy awareness campaign couples two popular touch points – celebrity and access. The Get Schooled in Anaphylaxis campaign features Emmy-winner Julie Bowen and a push to create programs to help schools better understand potentially deadly allergies and how to handle them.
The program includes print and broadcast PSAs as well as a financial incentive – Mylan will award 15 college scholarships of $2,000 each for students between first and 12th grade who submit winning proposals for spreading awareness and providing solutions that could help students suffering from anaphylaxis. The challenge includes some springboard ideas, such as a game, a kid's book or a song or dance.
Bowen, who also serves as a March of Dimes spokesperson, signed on to the Mylan mission based on personal experience: on the website she shares that her son's allergy took her family by surprise, because one day he was OK eating peanut butter, and the next he wasn't. Bowen called her son his best advocate because he is aware of his triggers and said her family makes sure that any potential caregiver is aware of his allergies and how to handle them.

"With education on what to avoid and by planning ahead, there is no reason that my son's life-threatening allergies should prevent him from doing the things all kids his age love to do," she said.
The school project is one of Mylan's many awareness efforts, including the August 10 allergy awareness night at a Pittsburgh Pirates home game that included a peanut-free fan zone and broadcasting allergy awareness tips. This is in addition to its epiPen4Schools Program that helps channel treatments to some schools at no- or lower- costs.
The financials behind the push show the company is not relying on past performance. Reports for the quarter ended June 30 show an increase in volume and pricing helped more than double Mylan's specialty sales – on a net basis – compared to the same period a year earlier, to $198.6 million, compared to $131.7 million. In contrast, the company reported a $5.3 million increase in marketing costs for the Epi-Pen compared with the same period last year, as well as noted in its 2011 annual report that the device owns 95% of the auto-injector US market and more than 90% of that same market worldwide.
That same market has taken some criticism – in response to a study published in the April Journal of Allergy and Clinical Immunology which noted a spike in the number of people suffering from food-related allergies, Richard Lockey, the director of allergy and immunology at Morsani College of Medicine in Tampa, FL, wrote a letter in July noting that the cost of auto-injectors as a whole has also spiked. Based on his examination of prices listed in the Micromedex Red Book, he said in 2011 dollars prices rose from between $30 and $110 between 2003 and 2005 to $54.50 to $168.66 by 2007.

The allergist told MM&M in an earlier interview that some patients have said they haven't filled their prescriptions because the costs are too high. The allergist said he's taken to recommending patients use a cheaper option, which is skipping the auto-injector and creating their own shots. This requires education about dosing and application.

"I always tell people to repeat after me that the treatment of choice is epinephrine…what's the first choice? Epinephrine. What's the second choice? Epinephrine? What's the third choice? Epinephrine," he said.
Scroll down to see the next article