September 28, 2010
New Actos ads call on current Avandia patients to switch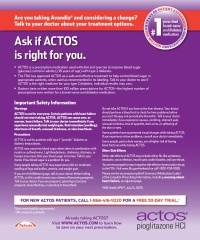 Takeda, maker of the most heavily prescribed diabetes drug, Actos, is again capitalizing on rival Avandia's regulatory troubles in new DTC advertising that broke this week.
Emboldened by new FDA marketing restrictions designed to limit Avandia's use among current patients, the drug maker debuted an Actos ad featuring a more direct tone than earlier print promotions and offering a free trial. "Are you taking Avandia and considering a change?" the headline asks. The ad was scheduled to run in local newspapers nationwide.
The Takeda campaign is the second in two months designed to jump on Avandia regulatory action.
Last week FDA officials said they decided to keep Avandia on the market
but with additional restrictions attached to the product. Users can continue only if they show benefit and understand Avandia's heart risks. (European regulators withdrew the drug entirely.)
The campaign started on Sunday, Sept. 26, and will run for two weeks in 90 markets and 121 papers. The agency behind the effort is Abelson Taylor, with PR by Ketchum. "Ask if Actos is right for you," the ad states, nudging patients to talk to their doctor about treatment options and proffering a 1-800 number and free 30-day trial.
An Actos print campaign earlier this year
stuck to the science, leveraging Actos' safety profile and stressing that Avandia's CV issues are not a class effect. "Actos has been shown to lower blood sugar without increasing your risk of having a heart attack or stroke," stated full-page promotions running in national papers including
The New York Times
.
That campaign came in July, after a two-day advisory committee meeting on Avandia safety resulted in a split vote by the panel on whether to withdraw the drug. After deliberating for two months, on Sept. 23 the FDA announced the new marketing restrictions.
The agency is requiring GSK to implement a risk evaluation and mitigation strategy (REMS) which, when in place, will limit Avandia to new patients only if they and their doctor agree not to take Actos—the only other antidiabetic in the same class—for medical reasons.
Officials said the REMS will limit use of Avandia "significantly," partly because the REMS will require doctors to document their patients' eligibility and provide information to patients explaining Avandia's heart safety concerns.
The new requirements could steepen Avandia's sales freefall. Through August, Avandia US sales declined 31.6%, compared to the first eight months of 2009, to $212.8 million, according to SDI. Actos sales were down 4.8% during the same period to $1.7 billion.
Total prescriptions for Avandia plummeted 25% in the period starting July 9—the week before the July advisory panel hearings—until Sept. 17, the most recent week for which data were available, SDI said.
Scroll down to see the next article