May 08, 2012
Saatchi shop rebrands to sharpen specialty focus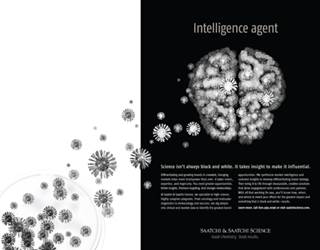 Saatchi & Saatchi Innovations, Publicis' Pennsylvania-based outpost servicing specialty pharma, is rebranding as Saatchi Science.
The Yardley, PA-based shop is looking to sharpen its brand with the name change.
"It's really a reflection of our "Go Forward" business strategy," said managing director Annemarie Armstrong. "We're narrowing our focus to broaden our appeal to very specific clients in high science and highly complex categories, like oncology, molecular diagnostics and immunology and vaccines. We wanted an identity that reflects that."
In addition to the new name, the 65-person shop is investing in analytics capability for oncology. Saatchi Science clients include: Pfizer, for which the firm works on Torisel; AstraZeneca, for Caprelsa and Faslodex; and Sanofi Pasteur, for the vaccines portfolio (both adult and pediatric).
"We're building from our strengths," said Armstrong. "We believe these are categories, particularly oncology and molecular diagnostics in the era of personalized medicine, are very different than [small molecule therapies], so we're investing in the right mix of marketing strategy, scientific understanding, customer insights and creative communications so that we're focusing all of our resources to deliver for these clients."
Armstrong was named managing director of the shop in July, having previously served in that role on an interim basis. Previously based in Newton, PA, the agency moved in with Publicis Healthcare Communications Group siblings Publicis Touchpoint Solutions and Publicis HealthWare International last year.

The Saatchi healthcare franchise also includes New York-based Saatchi Wellness, specializing in consumer and patient communications, and Saatchi & Saatchi Health Communications, the network's mainline professional-focused arm.
Scroll down to see the next article