November 13, 2013
Small patient majority supports risky Sanofi MS drug: poll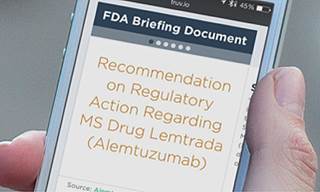 As an FDA advisory panel meets Wednesday to vote on whether to recommend approval of Sanofi's MS drug Lemtrada, patient opinion leaders have already voiced their view. A small majority told researchers they actively support approval of the risky drug, edging out a minority of "nays" most of whom stopped short of voting for an all-out denial.
The voice-response study was fielded by the firm Truvio among members of the Wego Health online community, comprised of "health activists," consumer KOLs steeped in the needs of their communities.
Participants were asked to answer the following question, in their own words: "Imagine that you were able to attend next week's FDA advisory committee to represent the perspective of the multiple sclerosis patient community. What might you say to the panel? Would you advise them to approve this drug, or vote against it—and why? What, if anything, would you want to make sure the panel takes into consideration when making their decision?"
It was fielded shortly after members of an FDA Advisory Committee raised safety issues with Lemtrada (alemtuzumab), including an elevated risk of thyroid cancer and other concerns.
Within 24 hours of the questions being deployed on the Truvio platform, quantitative and qualitative responses were received from the 33 respondents. The upshot: A slim majority of patients in the Truvio study showed a willingness to accept the risk—15 respondents voted for approval, 13 against, and five unsure.
The 45% who favored approval cited patients' rights to make decisions with their doctors. Among them were active users of other MS treatments.
Said one patient: "I currently take [Biogen Idec's] Tysabri and I understand the risks; that risk should be up to me as an informed patient. It's the same with this drug, in a lot of cases the outcome outweighs the risks; I would hope that in other cases, other patients who would wish to take the drug would have that right."
The comparison to Tysabri, an older MS injection, is telling, although perhaps not an apples-to-apples link. "…These [risks with Lemtrada] seem to me to outweigh all other risks, including the risks associated with Tysabri," said a respondent who voted against approval. "…We are tired of being the guinea pigs for the pharmaceutical companies…," said another in the "no" camp.
Tysabri, highly efficacious at preventing relapse, was withdrawn from the market due to elevating the risk for a rare but deadly brain infection. It returned after a chorus of protest from patients, and today a blood test can help screen out those susceptible to the infection. Today's typical Tysabri user is one comfortable with its high-risk/high-reward profile.
Although Lemtrada, which gained EU approval in September, "appears to cure MS—you can take this drug once and in a good proportion of people, their MS does not come back—there are both safety concerns and lack of efficacy in people with severe disease,'" one analyst told MM&M.
Still, most respondents seemed willing to let patients have an informed discussion with their doctors on the injection's risk-benefit profile. The MS community "is passionate about the medications they need," noted Jack Barrette, CEO, Wego Health, in an email. "They draw comparisons to Tysabri as an example of a powerful drug with powerful side effects—and the power of an informed, engaged patient community to make their own decisions with their doctors."
Among the 39% (13) of patient leaders recommending a "no" vote, most said "not now," requesting better research and more time vs. an outright denial.
"I would recommend that they don't approve it," said a naysayer, "that they do additional studies to prove that it is safe prior to its approval, especially given what happened with Tysabri, how people had problems before [Tysabri] developed a risk-management strategy."
Those who were undecided focused on better research—and the need for extensive physician training in risk management. "I could not recommend a global approval or disapproval—I would go to the middle," noted one among the undecided group. "As a patient I advocate for myself, and…for others, I don't know if I trust pharmaceutical companies to train doctors who are not MS specialists..."
Also notable was that, among all patients online, Lemtrada was discussed more positively than two of the oral MS drugs, Sanofi's Aubagio and Biogen Idec's Tecfidera, the MS pills approved in 2012 and 2013, respectively. But it received proportionally fewer positive comments than other MS treatments, on average, results from the Truvio study show.
The 33 respondents have a monthly combined audience of more than 1.5 million people, based on Wego's proprietary database of its members' site participation and average audience per site.
Scroll down to see the next article