September 27, 2012
The Magic Touch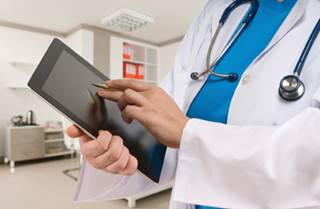 After years of false dawns and lost patience, healthcare was finally able to declare 2011 "the year of mobile." In truth, not much had changed, but at least 2011 marked a tipping point in which smartphones had become more prevalent in the US than feature phones. Moreover, early estimates of tablet adoption had started to do the rounds and, if data from the clinician community could be trusted, an iPad craze was about to break out.
With hindsight, it might have been more accurate to describe 2011 as "the year mobile became entrenched in the mindset." Back to the present and in terms of pharma dollars and mobile activity, the floodgates are far from open. At least mobile health is now very much top of mind.
"There has finally been the realization that mobile plays a critical role in the health journey," says Larry Mickelberg, chief digital officer, partner, ­Havas Health Worldwide. "The more consumers and professionals use mobile, the more it becomes the intermediary between consumers, brands and physicians,." However, Mickelberg believes the marketing psyche needs more tinkering. "The good news is that mobile has entered the stream of consciousness. But there is a mindset shift that has to occur in order to fully understand it: thinking in terms of a continuum of interaction."
Stop me if you've heard this one before but the big story in mobile health over the past year has once again been the continuing march of the tablet among healthcare professionals. The latest data from Manhattan Research's Taking the Pulse 2012 study reveals staggering rates of adoption, with 62% of physicians now owning a tablet device, up from 35% in 2011. And 85% of physicians also own a smartphone, up from 81% in last year. While smartphone adoption is flattening out naturally, it's doctors' love affair with the iPod that continues to cause the greatest stir.
"It's interesting to see how quickly physicians have bought [iPads], renewed these devices and updated apps," says Monique Levy, VP Research, Manhattan Research (MR). "It really shows through the data that they want to have the latest and greatest [versions] and the most information at their fingertips. The iPad filled a hole that's been gaping for a long time."
Levy says she expects to see some traction next year with alternative devices—"perhaps at lower prices"—but that the iPad will continue its dominance for at least the next 18 months.
So how are physicians using their favorite pieces of hardware? Levy says that between consults, physicians tend to use larger screens (PC/laptop) for what she calls "lean-back activities," such as reading journals or watching videos. But during consults, the activity governs the action and doctors tend to grab their smartphones and tablets for drug reference checking and accessing EMRs.
An important and perhaps surprising finding of MR's recent ePharma Physician 2012 study is that the proportion of physicians* that have seen reps with iPads more than doubled, from 30% in 2011 to 65% this year. What's more, as a result of meetings with iPad reps, 35% of doctors* said they would be more likely to request a sample and 29% said they would be more likely to consider prescribing the drug presented to them. They also said that they would be more likely to research information online and spend more time with reps.
These findings, while exciting and significant, should not lead to the conclusion that reps need only show up at the doctor's office and wave their iPads in order to boost market share of their brands. On the contrary, MDs are fussy about these interactions.
"They have very high standards for what they expect these campaigns to look like," says Levy. "They want them to be crisp and interactive and have all the possibilities for what these devices can offer. What the data clearly shows is that there is something about the [iPad rep] engagement that is really crystallizing their thinking."
Physicians would also like their iPad reps to offer the following: demos of a drug's MOA, mobile apps, KOL videos, patient education customized practice info and live 1:1 video.
MR's ePharma Physician 2012 survey threw up some other interesting data points. First, that while physicians' participation in online promotion programs—self-guided (video, animation), webcasts and live 1:1 video interaction—declined from 45% to 38%, the proportion who were "very interested" in participating in such events increased from 43% to 47%. This surely represents an opportunity to provide better, or more, content. Furthermore, of those indicating an interest in online programming, as surprisingly high number (23%) expressed interest in using a pharma app as the source of this content.
Second, physicians showed intent to migrate online for more of their pharma product information and services. Currently, they obtain 55% of their information online but expressed a desire to increase this to 65%.
And finally, tablets are showing significant traction as devices for reading online medical journals, with 37% of physicians reporting that they have read journals on these devices. This compares to desktops/laptops (81%), smartphones/PDAs (34%) and e-readers (3%).
Clearly, the HCP space is where the industry is focusing most of its attention (and investment) but what are the key trends in consumer mobile health?
According to MR's most recent Cybercitizen Health 2011 study, 91 million US consumers own smartphones, up from 59 million in 2010, while 61 million use their mobile phones for health purposes, vs. 28 million the previous year. Among those 91 million smartphone owners, 21% also own a tablet, 93% own a laptop/desktop and 17% own an e-reader.
When consumer health activities are broken down within the three main screens (desktop, phone and tablet), one glaring observation is that tablet health use is much closer to desktop use than mobile phone use. Also, most consumer mobile health activity still revolves around basic search and information research. What's more, consumers are twice as likely to use mobile web over apps for this purpose.
"For the most part, we're past the app craze," says Jason Levy, VP director, mobile, Draftfcb. "There's nothing wrong with apps. In many cases, however, the right mobile foundation starts with mobile web and search. Followed by adapting the rest of your marketing strategy for mobile. Is this innovation? By definition, yes. Is it sexy? Maybe not. Unless you find smart sexy. Regardless, marketers are beginning to favor and fund this approach."
Mickelberg has a different perspective. "We don't necessarily see enough pharma dollars going into the channel at all," he says, "and much of those that do end up as shlocky apps or simply mobilized versions of the brand.com. Most pharma brands are missing the opportunity to become embedded, even indispensable, in their customers' lives."
Levy is unperturbed. "More and more brands will bake mobile strategy into planning from the start and we'll see an uptick in the huge untapped mobile advertising opportunity. And over the next five years this will mature from trials and fundamentals to sophisticated, multi-pronged programs.
Another important finding from the study is that consumers are just as likely to perform mobile Rx searches in their own home as they are on the go. "The idea that your mobile device is not just an on-the-go platform was a big surprise," says Levy. "It's about the convenience of your mobile device, having that screen in your pocket and being able to do lots of in-the-moment context-relevant activities."
It seems consumers are also performing mobile Rx searches in and around doctors' offices and pharmacies, a contextual opportunity for pharma.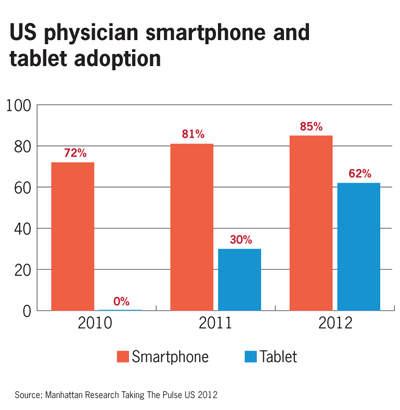 "Mobile can transform critical conversations at pivotal inflection points across the journey," says Mickelberg. "Today's moments of truth happen not in the doctors' office, but often in between office visits. This "in between time" is the new face time, and these make-or-break moments offer marketers massive opportunities for innovation through mobile."
According to Levy, it's a matter of understanding the patient's needs and getting in front of them with something unique. "[These moments] are really critical in terms of the psychology of framing a disease, framing your choices, having that sample in hand and being there when your decisions are coming together. These are enormous opportunities that marketers haven't previously had."
Speaking of which, remote patient monitoring is another mobile trend that promises to improve adherence and outcomes, while lowering costs.
Levy thinks it could be a while before it becomes a reality. "Right now we are limited because we are relying on consumers to enter their own data, or use rudimentary devices to measure it, and we don't really have systems in place to transfer this data to physicians, nor the pay-for-performance incentives to store and use it.
"Everyone's trying to figure out where the center of gravity is with this. Some pharmas have been watching this space and, when it does happen, they will be choosing their roles instead of reacting because it's going to impact how a lot of drugs are taken."
Mobile Touchpoints

91M US consumers now own smartphones, up from 59 million in 2010††

21% of consumers who own a smartphone also own a tablet device††

85% of physicians also own a smartphone, up from 81% in last year‡

62% of physicians now own a tablet device, up from 35% in 2011‡

38% of ePharma* physicians currently participate in online promotion programs, down from 45% in 2011†

47% of ePharma* physicians would be 'very interested' in participating in online promotion programs, up from 43% in 2011†

55% of pharma brand information and services obtained by ePharma* physicians is sourced online. Physicians* expressed a desire to increase this to 65%†

37% of ePharma* physicians use their tablet devices to read medical journals, compared to desktops/laptops (81%), smartphones/PDAs (34%) and e-readers (3%)†

*ePharma Physicians are physicians using digital channels to look for prescribing drug information
†Source: Manhattan Research, ePharma Physician 2012
†† Source: Manhattan Research, Cybercitizen Health 2011
‡ Source: Manhattan Research, Taking the Pulse 2012
Scroll down to see the next article