October 03, 2013
Best Branded Website for Consumers
Download:

BOTN CATEGORY 6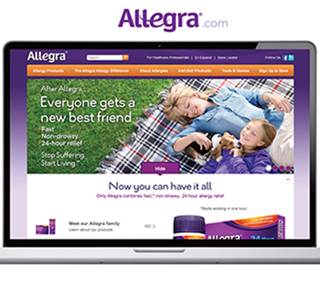 Recognizes excellence for websites targeted at consumers, promoting specific branded products and services (brand.com)
Sponsored by Publicis Healthcare Communications Group

THE FINALISTS
• Intouch Solutions and Bayer HealthCare Pharmaceuticals for FactorMatters.com (brand: Kogenate FS)
• Klick Health and Acorda Therapeutics for Ampyra.com
• RTC Relationship Marketing and Biogen Idec for MSInspiration.com (brand: Tysabri)
• Saatchi & Saatchi Wellness and Chattem for Allegra.com
• The CementBloc and Salix Pharmaceuticals for Giazo.com
GOLD AWARD
Saatchi & Saatchi Wellness and Chattem
Allegra.com
The agency explained that increasing private-label penetration challenged Allegra OTC, and it was battling Zyrtec for the number two spot in the category behind Claritin. Objectives include acquiring users, generating trial, and retaining current users.
"We are in a 'game of inches,' where every share point is hard earned," the agency said.
Promotion is integrated across the website, online advertising, mobile, CRM, and social engagement. The site, which is well designed and easy to use, provides educational information, including product comparison tools. It further supports visitors with games and daily-use tools, such as a pollen forecaster.
"Good balance of engagement and message conveyance," said one judge. "Great optimization across desktop, tablet and smartphone."
The agency noted that coupons and offers are effective in enticing people to try Allegra and in narrowing the price gap with private label. Rewarding customer loyalty also gives allergy sufferers incentive to stay with the brand. Selective digital couponing has helped acquire new customers, and compel existing customers to purchase again.
"This website effectively balances promotional objectives and educational value," said a second judge. "Its imagery is engaging, and its navigational schema is easy to engage."
Outstanding results were driven on a budget of about $2 million. Website visits for 2012 were up 4% over 2011 to 2 million.
SILVER AWARD
Klick Health and Acorda Therapeutics
Ampyra.com consumer site
Ampyra.com gives MS patients with walking issues the feeling of walking through the site. A "can do" tone and customized support help visitors feel empowered. "The site clearly demonstrates the product benefit," said one judge.
Results included nearly 236,000 unique visitors and 9,370 new unique eCRM registrations.



Publicis Healthcare Communications Group (PHCG) is the world's largest health-oriented agency network. A division of Publicis Groupe, PHCG manages top-tier agencies specializing in promoting innovative solutions in advertising, medical education, sales and marketing, digital, market access, and medical and scientific affairs. PHCG's global brands are Saatchi & Saatchi Health, Publicis Life Brands, Digitas Health, Razorfish Healthware, Discovery, Medicus International, Publicis Health Media, and Publicis Touchpoint Solutions.
Scroll down to see the next article