September 20, 2010
Best Branded Website
Download:

Category6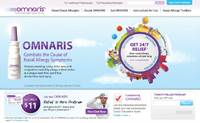 GOLD AWARD
Greather Than One and Sepracor
Omnaris
On a limited budget, Greater Than One did an outstanding job increasing online engagement and revenue by driving coupon downloads for Sepracor's nasal allergy treatment Omnaris. Results are outstanding: sign-ups for coupon sign increased 160% year-over-year, which contributed to nearly $6 million in revenue.
"Clean, clear and engaging," said one judge. "Great interactive components."
Another judge praised the site for providing a "nice experience for both allergy learning and brand information."
The agency redesigned the homepage and implemented custom landing pages. The coupon element is a main component and well integrated. In addition to extensive allergy education content and brand information, the site also includes a "Nasal Allergy Toolbox" with local daily pollen counts; forecasts and allergy alerts; tips for allergy-proofing your house; and a doctor discussion guide. And the agency also did a fantastic job integrating patients' personal experiences with Omnaris into colorful and engaging art prominently displayed on pages.
One judge commented that the team "really understood their personal stories," adding that the site does a nice job of "engaging technology to up a story and keep the user convinced."
The agency reported that extensive segmentation, along with intensive SEO and tracking, contributed to success. SEO efforts drove 8,400 coupon sign-ups; a 41% increase in total listings on organic search engine results; and a 67% increase in keywords associated with the site.
SILVER AWARD
evoke interaction and Novogyne Pharmaceuticals
Doc&Diva
All estrogen therapy products carry black-box warnings, which have caused declines across the entire category. Doc&Diva was created as a menopause education sub-brand of estrogen patch Vivelle-Dot. Docdiva.com features a video series that presents candid, informative and often funny menopause conversations with the "Doc," Mary Jane Minkin, a board-certified OB/GYN at Yale and the "Diva of Menopause," Karen Giblin, president of Red Hot Mommas. Judges loved the format. "Good long form content," noted one judge.
The Finalists
DevicePharm and Abbott Medical Optics—My Cataract Solution
Euro RSCG Worldwide and Sanofi-Aventis—WhyInsulin.com
evoke interaction and Novogyne Pharmaceuticals—Doc&Diva
Greater Than One and Sepracor—Omnaris
HC&B Healthcare Communications and US Oncology—US Oncology Corporate Website
Scroll down to see the next article