May 01, 2012
MM&M Awards: Dream Team 2012
Download:

Dream Team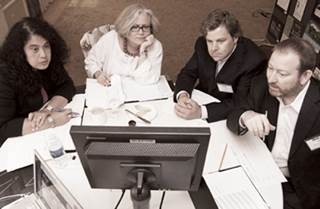 While entries to the MM&M Awards are now closed, for the judges, the fun—and the hours of hard work—are just beginning.
The 2012 panel is in place and our judges are poised to start poring over hundreds of submissions. As in previous years, the panel features a wide range of esteemed leaders and thinkers representing a variety of industry disciplines across, pharma, biotech, device and diagnostic companies, as well as agency and media creatives and execs. However, this year there is one major difference: The panel has more than doubled in size.
We took the decision to increase the number of judges from around 40 to more than 100 for several reasons. Not only will each entry be reviewed by a larger and more varied group, we will have greater flexibility to match the skills and experience of specific judges with particular categories. This way we can be certain that the best work will win.
To make this work effectively, the judging will take place in two distinct stages. In Stage One, 50-60 judges will individually review and score the majority of submissions online, determining which entries which proceed to the final. Then, in Stage Two, 40-50 judges will assemble in New York to discuss and score the finalists, ultimately producing the majority of the gold and silver winners.
Judging the MM&M Awards is a serious business. It's not enough for a submission to simply look good; it must also be effective. That's why, as well as having a band of seasoned creatives to hand, we also recruit a number of marketing and branding execs from the pharma side—48 this year—to add to the authority and credibility of the judging process. We even have a couple of pharma CEOs. (See below for a complete list of 2012 judges.)
As in previous years, judges' scores will remain confidential throughout the process to ensure that the identities of the winners remain under wraps until the Awards dinner and ceremony on October 9, 2012.
• For ticket reservations and sponsorship opportunities, please visit awards.mmm-online.com.

THE MM&M AWARDS 2012 JUDGES
Bill Abernethy, Vice President, Global Market Development, Prosensa Therapeutics
Manuel Alvarado, Sr. Prod. Mgr. Inmunology (HUMIRA) Global Marketing, Abbott Labs
Elizabeth Apelles, CEO, Greater Than One
Irene Aquino, Associate Director, Marketing, Shire HGT
Lisa Bair, CEO, Hobart Group Holdings
Jack Barrette, CEO, WEGO Health
Matt Beebe, President, PROPEL Medical Marketing
Nancy Beesley, Chief Marketing Officer, HCB Health
Ken Begasse, CEO, Agency Operations, Concentric Partners
Ambaw Bellete, Head, US Cancer Commercial Operaitons, Photocure ASA
Stephanie Berman, Partner, The CementBloc
Sundeep Bhan, Chief Executive , Medivo
Mike Boken, Senior Director, Shire
Renee Brauen, Manager Multi-channel Marketing, Pfizer
Hugo Brown, Assoc. Director, Digital Marketing & Media Strategy, Vertex Pharmaceuticals
Stephen Calabrese, Director, Digital Strategy and Services, Novartis Oncology
Michael Castagna, Executive Director, Orencia, Bristol-Myers Squibb
Karen Cavanaugh, Director, Breast Marketing, Genomic Health
Amy Chafin, Global Oncology Marketing Director, Eli Lilly & Company
Christine Coyne, Senior Director, Marketing, Auxilium Pharmaceuticals
David Davidovic, VP Global Head, Commercial Services, Roche and Genentech
David DeJonghe, Director of Marketing, Johnson & Johnson
Olivier Delannoy, Vice President Sales, Ferring Pharmaceuticals
Deborah Dick-Rath, President, Epic Proportions
Jon Doniger, Director, eBusiness, Boehringer Ingelheim
Bill Drummy, CEO, Heartbeat Ideas
Deborah Dunsire, CEO and President, Millennium: The Takeda Oncology Company
Stephanie Feldt, Dir., Market Insight, ZymoGenetics, A Wholly Owned Subsidiary of BMS
Derek Fetzer, Director, Johnson & Johnson
David Fink, President, Compass Associates
Lisa Flaiz, VP Strategic Growth & Innovation, imc2 health & wellness
Adam Fletcher, Senior Brand Manager, Teva Women's Health
Chris Freeman, Director, Cardiopulmonary Marketing, Gilead Sciences
Matt Giegerich, Chairman & CEO, Ogilvy CommonHealth Worldwide
Mark Goldstone, President, DDB Health Worldwide
Marita Gomez, Managing Director, Paul Werth Associates
Traci Gonzales, Strategic Interactive Marketing Manager, Galderma Laboratories
Adrian Goodall, Global Marketing Manager, Sanofi
Fabio Gratton, Chief Experience Officer, Ignite Health
David Grillo, SVP Creative Director, Blue Diesel
Jeffrey Gruenglas, Director of Client Services & Creative Director, H4B Chelsea
Shwen Gwee, VP, Digital Health, Edelman
Steve Hamburg, Chief Creative Officer, LLNS
Brian Heath, Marketing Director, Amgen
Keith Hopps, Marketing Director, Medtronic
Aleen Hosdaghian, Marketing Director, Triax Pharmaceuticals
John Hosier, Group Marketing Director, Primary Care & Speciality, Eisai
Alan Imhoff, President, IMNG Medical Media
Paul Ivans, President & CEO, Evolution Road
Peter Justason, Director, eMarketing, Purdue Pharma
Jeff Kaminski, Multi-Channel Marketing Strategy, sanofi
Lori Kaplan, Director of Marketing, Bristol-Myers Squibb
Debbie Kenworthy, Dir., Business Analytics—Virology, Janssen (J&J)
Gautam Kollu, VP, Commercial, Exelixis
Carly Kuper, VP, Strategic Marketing & Corporate Communications, CMI/Compas
Brian Lange, Marketing Director, GlaxoSmithKline
Camille Lee, CVP Diabetes Marketing, Novo Nordisk
Rich Levy, Chief Creative Officer, DraftFCB Healthcare
Mike Luby, CEO, BioPharma Alliance
Roger May, Senior Director of Marketing, Siemens Health Services
Kevin McDermott, VP Managed Markets, Daiichi Sankyo
Carol Meerschaert, Dir., Mrktng. and Comm., Healthcare Businesswomen's Assoc. (HBA)
Lars Merk, Director, Digital Platforms, McNeil Consumer Healthcare
Mary Michael, Senior Director, Otsuka
Larry Mickelberg, Chief Digital Officer, Havas Worldwide Health
Graham Mills, Executive Creative Director, Digitas Health
Ed Mitzen, Owner, FingerPaint Marketing
Sean Moloney, CEO/Co-Founder, Dramatic Health
Michael Moody, Senior Division Sales Manager, GlaxoSmithKline
Chet Moss, EVP, Chief Creative Officer, ICC Lowe
Kurt Mueller, Chief Digital Officer, Roska Healthcare
Michael Myers, President, Palio
Stephen Neale, Senior VP, Executive Creative Director, AbelsonTaylor
Cynthia North
, Customer Marketing Director, Bayer HealthCare
David Paragamian, Group Company President, Huntsworth Health
Dina Peck, Managing Partner, ECD, CDMiConnect
Julie Petroski, VP Group Creative Director, Targetbase
Mary Pietrowski, Senior Director, Digital Strategy & Marketing, Hologic
Frank Powers, President, Dudnyk
Randy Pritchard, VP, Marketing, Roche Diagnostics
Pearl Pugh, Head, Oncology Alliance Management, GlaxoSmithKline
Mark Reichman, SVP, Director, Medicus
Meredith Ressi, President, Manhattan Research
Jennifer Rinaldo, Senior Product Director, Forest Laboratories
Janie Rodriguez, Senior Manager, Pfizer
Bruce Rooke, Chief Creative Officer, GSW Worldwide
Brent Rose, Senior Manager, Digital Marketing, Daiichi Sankyo
Anthony Rotolo, Chief Creative Officer, Health & Wellness, The Agency Inside Harte-Hanks
Robert Rubbinaccio, Director - HCP Advertising, Bayer HealthCare
Debra Sangiuliano, Director, Media, Pfizer
Jon Sawyer, Principal, closerlook
Ron Scalici, Chief Innovations Officer, Group DCA
Joe Shields, Global Strategic Marketing, LifeScan / Johnson & Johnson
Heidi Shurtz, Sr. Manager, CRM, Allergan
Gurdish Singh, Marketing Director, AstraZeneca
Anita St.Clair, Client Partner, HealthEd
Jos Stella, Head of Social and Digital, Biosector 2
Thomas Thill, Sr. Director Marketing, KCI
Sheila Thorne, President/CEO, Multicultural Healthcare Marketing Group
Al Topin, President, Topin & Associates
Sam Trujillo, Executive VP Marketing, Conceptus
Susan Watkins, PR Director, Sanofi Pasteur
Allan Weber, CEO, Essential Pharmaceuticals
Reaves West, Global MarComm Director, Merck & Co.
Arthur Wilschek, Executive Director Global Sales, New England Journal of Medicine
Scroll down to see the next article