August 01, 2013
MM&M Awards: Glimpse at Gold
Download:

Glimpse at Gold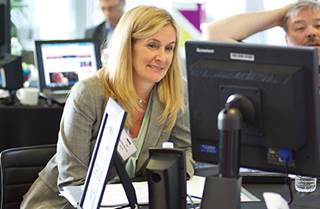 A panel of 100 esteemed industry leaders and thinkers spent several hours discussing, reviewing and scoring around 700 entries to the MM&M Awards. Here are the results of their efforts—the 2013 finalists
Following two exhaustive rounds of scoring by 100 or so independent industry judges, the results are in for the MM&M Awards 2013. The finalists for each category are revealed on the following pages—but you'll have to wait for the spectacular dinner and ceremony on October 2, 2013 to find out who will take home the gold and silver awards.
The MM&M Awards are judged with the utmost independence and authority, using an esteemed panel of leaders and thinkers representing a wide variety of disciplines and backgrounds within the healthcare marketing community.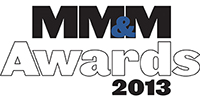 This year, we again incorporated a preliminary round of online reviews into the judging process. We also expanded the size of the panel to increase the number of judges reviewing each submission, to allow greater flexibility in matching judges' expertise with particular category disciplines, and to enable an extended review of the leading contenders in the final round.
Make no mistake. Judging the MM&M Awards is a serious business. If you need further proof, take a look at some of the photographs from the judging day (pages 62-66), each conveying the dedication and hard work that goes into the review process.
It's not enough for a submission simply to look good, either—it must also be effective. That's why, as well as assembling a band of seasoned creatives, we recruited more than 30 marketing and branding execs from the pharma industry to further extend the authority and credibility of the judging process. (See opposite for a complete list of 2013 judges.)
We would like to take this opportunity to thank all of our judges for their efforts.
As usual, the identities of all gold and silver winners will be withheld until the spectacular gala dinner at Cipriani 42nd Street on October 2, 2013. Not even the judges will know who the winners are until they are called to the stage; the suspense and elation of claiming gold in front of several hundred peers is second to none. Not to mention the celebration that follows. We hope to see you there.
For further information about the MM&M Awards, including dinner tickets, sponsorship opportunities, key dates and past winners, please visit our dedicated Awards website at awards.mmm-online.com.
THE MM&M AWARDS 2013 JUDGES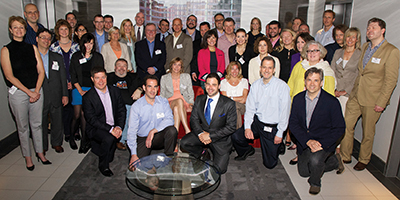 2013 judges assemble in New York for the final round
Bill Abernethy, Vice President, Global Market Development, Prosensa Therapeutic
Jay Appel, Director, Multi-Channel Marketing, Amgen
Christine Armstrong, Managing Director, IOMEDIA
Emily Baier, Associate Director, Public Relations, Boehringer Ingelheim
Mark Bard, Founder, Digital Health Coalition
Jack Barrette, CEO, WEGO Health
Natalie Bartner, Head, Commercial Strategy, N. America Pharmaceuticals, Sanofi
Pilar Belhumeur, Partner, Executive Creative Director, Greater Than One
Lynn Benzing, CEO/Professor, Wellness Advocates/NYU
Stephanie Berman, Partner, Creative, The CementBloc
David Blair, Head of Industry, Health, Google
Jessica Boden, President, StoneArch
Marvin Bowe, SVP, Executive Creative Director, The Navicor Group
Renee Brauen, Global Channel Lead for Mobile, Multi-Channel Marketing, Pfizer
Jaime Butler-Binley, Partner/Creative Lead, Fingerpaint
Stephen Calabrese, Director, Digital Strategy and Services, Novartis Oncology
Angela Walker Campbell, VP, Executive Creative Director, Prime Access
Jay Carter, Senior Vice President, AbelsonTaylor
Amy Chafin, Global Oncology Marketing Director, Eli Lilly & Company
Stephen Cheren, Director, Marketing Excellence, Novartis Pharmaceuticals
Becky Chidester, President, Wunderman World Health
Pete Clancy, Director of Strategy, closerlook
Christine Coyne, Senior Director, Auxilium
Diane Cummins, Worldwide Director, Colgate-Palmolive
Jim DeLash, Director, Consumer Multi-Channel Strategy, GlaxoSmithKline
Deborah Dick-Rath, President, Epic Proportions
Bill Drummy, CEO, Heartbeat Ideas
Deborah Dunsire, CEO and President, EnVivo Pharmaceuticals
Helene Ellison, Chair, Global Healthcare Practice, Burson-Marsteller
Joyce Ercolino, Director, eStrategy, CSL Behring
Tina Fascetti, Chief Creative Officer, Roska Healthcare Advertising
Alex Fishgoyt, SVP Director of Creative Development, Harrison and Star
Lisa Flaiz, Group Director, Digital Marketing, Janssen
Olga Fleming, EVP/Managing Director, Cohn & Wolfe
Chris Freeman, Marketing Director, Gilead Sciences
Marcia Goddard, Chief Creative Officer, McCann Torre Lazur Group
Traci Gonzales, Strategic Digtial Marketing Manager, Galderma Labs
Jennifer Gottlieb, Leader, W2O Group
Mike Hartman, Chief Creative Officer , W2O Group
Brian Heath, Marketing Director, Amgen
Olav Hellebo, CEO, Clavis Pharma
Nancy Hicks, SVP, Associate Director, North America Healthcare, Ketchum
Dominique Hurley, Senior Director Commercial Systems, Ironwood Pharmaceuticals
Paul Ivans, President & CEO, Evolution Road
Peter Justason, Director, eMarketing, Purdue Pharma
Fred Kinch, Managing Partner, Creative Director, AgencyRx
Richard Kindberg, President/CEO, Vistek Medical
Stu Klein, Healthcare Practice Lead, Interpublic
Kathy Kovalic, Director of Marketing, Drug Delivery, B Braun Medical
David Krawitz, Executive Director, Global Communications and Philanthropy, Amgen
Brian Lange, Marketing Director, GlaxoSmithKline
Larry Lannino, General Manager, Beacon Healthcare
Brian Layden, VP, Sales & Business Development, Haymarket Media
Matthew Leung, Director of Advertising—Healthcare, Reckitt Benckiser
Harry Levy, MD, MPH, President, interMDnet
Monique Levy, Vice President, Research, Manhattan Research
Rich Levy, EVP/CCO, Draftfcb Healthcare
R.J. Lewis, President & CEO, eHealthcare Solutions
Mike Luby, CEO, BioPharma Alliance
Maria Maccecchini, President & CEO, QR Pharma
Lynn Macrone, Partner, Chief Creative Officer, JUICE Pharma Worldwide
Patricia Malone, SVP, Creative Director, Dudnyk
Maria Marcelli, Head, Marcom US Radiology, Bayer HealthCare
Dave Marek, Executive Vice President, Consumer Services, WebMD
Jerry Maynor, Dir. of Marketing and Business Development, Cegedim Strategic Data
Larry Mickelberg, Partner, Chief Digital Officer, Havas Health; Pres., Havas Lynx US
Tony Miller, Executive Creative Director, AndersonDDB
Graham Mills, Executive Creative Director, Digitas Health
Marc Monseau, Founder, Mint Collective
Chet Moss, Chief Creative Officer, ICC Lowe
Mike Myers, President, Palio+Ignite
Anne O'Brien, VP Strategic Solutions, Remedy Health Media
Christopher Ovdiyenko, VP, Creative Director, GSW Worldwide
David Paragamian, Group Company President, Huntsworth Health
Dina Peck, ECD, Managing Partner, CDMiConnect
Aris Persidis, President, Biovista
Mary Pietrowski, Sr. Director, Digital Strategy & Marketing, Hologic
Barbara Pritchard, Principal, WentzMiller Global Services
Charlene Prounis, CEO, Flashpoint Medica
Will Reese, Chief Innovation Officer, Cadient Group
Dan Renick, President, Hobart Group Holdings
Jennifer Rinaldo, Senior Product Director, Forest Laboratories
Anthony Rotolo, Chief Creative Officer, True Health + Wellness
Debra Sangiuliano, Director, Pfizer
Leerom Segal, President & CEO, Klick Health
Manos Sifakis, President & CEO, customedialabs
Rick Soni, President & COO, Rexahn Pharmaceuticals
Allen Stegall, Principal, Executive Director of Strategy, Scout Marketing
David Stern, Global Head, Fertility Franchise, EMD Serono
Katherine Stultz, Executive Director Oncology Marketing, Celgene
Felipe Tilca, Senior Business Analyst, Abbott
Wanda Turini, President/CEO, Bull's Eye Innovations
Kristin Vitanza, Brand Director, Endo Health Solutions
Scott Weintraub, Chief Marketing Officer, Healthcare Regional Marketing
Sam Welch, Global Group President, Publicis Healthcare Communications Group
Amy West, Associate Director Patient Relationship Marketing, Novo Nordisk
Reaves West, Medical Account Executive, Merck & Co.
Arthur Wilschek, Executive Director Global Sales, New England Journal of Medicine
THE FINALISTS
Best Healthcare Consumer Media Brand
HealthiNation
Remedy Health Media for TheBody.com
Remedy Health Media for Berkeley ­Wellness
Remedy Health Media for RemedyMD Healthy Living Guide
Remedy Health Media for Diabetes Focus
Best Healthcare Professional Media Brand
Everyday Health for MedPage Today
Intellisphere LLC for Pharmacy Times
Lippincott Williams & Wilkins for PRS
MDLinx
SLACK Incorporated for Healio
Best Use of Direct Marketing to Consumers
Arnold NYC and Sanofi for "Lantus Branded e/CRM Program"
CDMiConnect and Genentech for "Avastin Cares"
Publicis Healthcare Communications Group and Sanofi for "Auvi-Q Magazine ­Covers Take Ones"
Publicis Healthcare Communications Group and Sanofi for "The Auvi-Q Pocket Guide Patient Brochure"
GA Communication Group and Upsher Smith for "Morning Sickness In-Office Campaign"
Best Use of Direct Marketing to Healthcare Professionals
CDMiConnect and Brooklyn Free Clinic for "We Need U"
GSW and Endo Pharmaceuticals for "Fortesta Gel"
Herspiegel Consulting and Novo Nordisk for "Quality Diabetes Measures Kit"
Optum for "Optum Ecosphere Campaign"
SCORR Marketing and Theorem Clinical Research for "Theorem 2012 DIA Trade Show"
Best Use of Public Relations
Ketchum Washington DC and Office of the National Coordinator for Health Information Technology, U.S. Department of Health and Human Services for "Putting the I in Health IT"
Marina Maher Communications LLC (MMC) and Novo Nordisk (with The Rose Group) for "Novo Nordisk and Paula Deen Help People See Diabetes in a New Light"
Ogilvy Public Relations and Bristol-Myers Squibb for "Men and Melanoma: The Unexposed Target"
ruder finn and Roche Diagnostics Corporation for "Steve's Mountain"
Waggener Edstrom Worldwide and Emergent Biosolutions and development partners Aeras, OETC (a joint venture between Oxford Univ. and Emergent BioSolutions), Oxford Univ., South African Tuberculosis Vaccine Initiative, and the Wellcome Trust for Hope, for "the First Tuberculosis Infant Booster Vaccine
Best Branded Website for Consumers
Intouch Solutions and Bayer HealthCare Pharmaceuticals for FactorMatters.com (brand: Kogenate FS)
Klick Health and Acorda Therapeutics for Ampyra.com
RTC Relationship Marketing and Biogen Idec for MSInspiration.com (brand: Tysabri)
Saatchi & Saatchi Wellness and Chattem for Allegra.com
The CementBloc and Salix Pharmaceuticals for Giazo.com
Best Branded Website for Healthcare Professionals
Publicis Healthcare Communications Group and Sanofi for auvi-q.com/hcp
ICC Lowe Trio and Johnson & Johnson Healthcare Products for jjdentalprofessional.com (brand: Listerine)
Klick Health and Acorda Therapeutics for ampyra-hcp.com
Medtronic Neuromodulation for professional.medtronic.com
Sudler & Hennessey and Ferring Pharmaceuticals for ferringfertility.com/hcp
Best Disease/Education Website
Chandler Chicco Agency and Mylan ­Specialty for anaphylaxis101.com
gcg CONNECT and Novo Nordisk for ­cornerstones4care.com
Klick Health and Reckitt Benckiser for turntohelp.com
Palio+Ignite and Endo for pubertytooearly.com
Toolhouse and Phonak for hearinglikeme.com
Best Use of Social Media
Digitas Health and UCB for "Epilepsy ­Advocate on Facebook"
Intouch Solutions and Sanofi US Diabetes for "Get Blood Sugar Control: Interactive Q&A via YouTube"
Intouch Solutions and Galderma Laboratories for "Giving Thanks for Cetaphil Super Fans: A Community Advocacy and Social Engagement Campaign"
Medtronic MiniMed and Medtronic Diabetes for "The Medtronic Diabetes Community: Engaged, Inspired and the #1 Diabetes Brand on Facebook"
Siren Interactive and Lundbeck for "Moving Together for HD Facebook Page"
Best Medical Digital Initiative for Consumers
CDM Princeton and Novo Nordisk for "HemaGo"
Digitas Health and Shire for "Own It"
Intouch Solutions and Sanofi US Diabetes for "Beyond Counting Calories: The Transformation of GoMeals"
Nucleus Medical Media for "iHeart Touch iPad App: Point of Care—Everywhere"
Vogel Farina and Novartis Oncology for "My NET Manager patient app"
Best Health & Wellness Digital Initiative for Consumers
Brightworks Interactive Marketing and Bayer for "The Eczema App"
DiD and McNeil Consumer Healthcare for "Kids' Wellness Tracker"
Marina Maher Communications LLC (MMC) and Merck for "Merck Helps ­College Women Plan It Forward and ­Consider Long-Acting Contraceptives"
Palio+Ignite and Lilly for "Glucagon Mobile Application"
WebMD for "WebMD Magazine Tablet App"
Best Digital Initiative for Healthcare Professionals
Digitas Health and Amgen for "Manufacturing Matters with Biological Medicines Website"
HealthEd and HealthEd Academy for "Growing an online learning community, SurroundHealth, for healthcare extenders"
ICC Lowe and MSD Animal Health for "Activyl 'Ditch The Itch'"
Klick Health and Millennium: The Takeda Oncology Company for "Velcade iPatient App"
McCann Torre Lazur and UCB for "Vimpat interactive Ad"
Best App for Healthcare Professionals
GSW and Eli Lilly for "Clinical Trials ­Resource App"
ICC Lowe and Allergan for "Botox Phase 1 Launch"
Infuse Medical and Hologic for "The Hologic Trident ROI App"
Interact Medical and Acumed for "iPad Sales App"
Epocrates for "Epocrates Rx for iPad: Enabling ­Physicians to Make Better Prescribing Decisions"
Best Consumer Print Campaign
CDMiConnect and Genentech for "Romance" (Rituxan)
Digitas Health and UCB for "Go Beyond Okay" (Vimpat)
Draftfcb - NY and Thermo Fisher Scientific for "Know Where They Stand" (uKnow peanut test)
GSW and Stryker for "Stryker GetAroundKnee Print Campaign"
Healthwork Powered by BBDO & CDMi and Genentech for "Bigger Than" (Tamiflu)
Best Single Professional Print Advertisement
Draftfcb - NY and Boehringer Ingelheim/Pfizer for "Why Wait?" (Spiriva)
GSW and Takeda for "Edarbyclor ­Professional Journal Ad"
ICC Lowe and Boehringer Ingelheim for "Buscopan 'Take Control'"
Rosetta and Otsuka America Pharmaceutical for "BreathTek UBT Journal Ad"
The CementBloc and Salix Pharmaceuticals for "Mr Butt Print Ad: Biker" (Giazo)
Best Professional Print Campaign
Strategic Edge Communications and Wockhardt USA for "Bromfed DM Professional Ad"
Cline Davis & Mann (CDM) and Pfizer for "Scream Campaign" (Zyvox)
Dudnyk and ViroPharma for "'Moments Missed' Unbranded Campaign"
ICC Lowe and MSD Animal Health for Activyl "'Switch The Itch'"
The CementBloc and Salix Pharmaceuticals for "Mr Butt Print Ad: Biker" (Giazo)
Best Professional Print Campaign for New Launches
Cline Davis and Mann (CDM) and Salix Pharmaceuticals for "Positively in Control" (Fulyzaq)
Area 23 and Fresenius for "MeDS Pump - Approximately Isn't Good Enough"
Dudnyk and Dentsply for "Nu World" (Nupro)
Mc|K Healthcare and UCB for "Neupro RLS Ads"
The CementBloc and Salix Pharmaceuticals for "Mr Butt Print Ad: Biker" (Giazo)
Best Professional Sales Aid
AbelsonTaylor and Healthpoint Biotherapeutics for "Santyl Street Sweeper Sales Aid"
CAHG and Alcon Laboratories for "Inflammation Happens" (Durezol)
Giant Creative/Strategy, LLC and Valeant Pharmaceuticals North America for "Xerese 'Stop It' Detail Aid"
ICC Lowe and Shire for "Adult Maintenance Campaign" (Vyvanse)
Pacific Communications and Allergan for "Take a Second Look at Possible Chronic Migraine Patients in Your Practice" (Botox)
Best Corporate Marketing Campaign
Glyph Interface and GRHealth for "Spine Center Campaign"
McCann Regan Campbell Ward and Daiichi Sankyo for "Daiichi Sankyo Corporate Campaign"
Saatchi & Saatchi Wellness and American Heart Assosciation for "Go Red for Women"
StoneArch and 3M Health Care for "3M Infection Prevention Sustainability Leadership Video"
The CementBloc and The Coore Foundation for "Girls Right Of Way: Print"
Best Agency Self-Promotion
Draftfcb—NY for "We Doubled" - Agency Self-Promotion Video"
Harrison & Star for "What Turns Specialist On?"
ICC Lowe for "Fun/Kitchen"
ICC Lowe for "Tangrams Campaign"
McCann Torre Lazur and McCann echo Torre Lazur for "New Blood/Best Brains Campaign Recruitment Ads"
Best TV Advertising Campaign
Digitas Health and Shire for "Own It" (unbranded)
Doner Advertising and OhioHealth for "OhioHealth 2013 TVCampaign – Connectivity"
Healthwork Powered by BBDO & CDMi and Genentech for "Bigger Than" (Tamiflu)
Merck & Co (with DDB) for "Shingles, The Inside Story" (Zostavax)
Saatchi & Saatchi Wellness and AstraZeneca for "'Doctor Doing Your Job' (DDYJ) TV Campaign" (Nexium)
Best Multichannel Campaign for Small-to-Medium Client Organizations
Cline Davis and Mann (CDM) and Salix Pharmaceuticals for "HE*s Back: the consequences of hepatic encephalopathy (HE) recurrences" (unbranded)
Deutsch and Sunovion Pharmaceuticals for "Project Luna for a restful night's sleep" (Lunesta)
GSW and Stryker for "Stryker GetAroundKnee Campaign"
Hill Holliday and Harvard Pilgrim Health Care for "Count Us In"
StoneArch and Minnesota Ovarian Cancer Alliance for "Tie it Teal"
Best Multichannel Campaign for Large Client Organizations
Arnold NYC and Sanofi for "Lantus multichannel Campaign"
Publicis Healthcare Communications Group and Sanofi for "Auvi-Q Campaign - Launch and Beyond"
Draftfcb - Chicago and Janssen Biotech (A Pharmaceutical Company of Johnson & Johnson) for "Stelara Psoriasis Warrior Integrated DTC Campaign"
CDMiConnect and Genentech for "Bigger Than" (Tamiflu)
Wunderman World Health and Novartis Consumer Health for "Prevacid24HR Perks"
Scroll down to see the next article