April 01, 2014
Playing the name game with biosimilars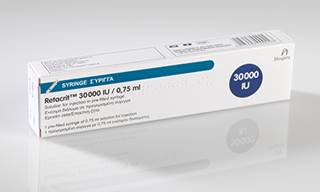 Allowing copies of branded biologic medicines to share the original drug's non-proprietary name will have little or no consequence for patient safety, despite strong resistance by innovator companies, most stakeholders and experts said during a workshop convened in February by the Federal Trade Commission.
Spending on biologic medicines is projected to soon match dollars spent on prescription pharmaceuticals. Biosimilars—essentially copies of those drugs—are proposed as a way to help lower healthcare costs.
Sharing a name with innovators is seen as a market dam-opener for the me-too drugs. At issue is whether the FDA should be encouraged to stick to the existing naming policy for biologic copycat medicines, or adopt distinguishing names.
When a small-molecule drug loses exclusivity, generic drug makers are usually free to share its WHO-established International Non-proprietary Name (INN). For instance, atorvastatin is the INN for Pfizer's off-patent Lipitor.
Not adopting distinguishing names for biosimilars in place of the shared INNs now being used is risky, innovator companies said, as it can lead to confusion about drug origins when problems are reported. However, these concerns were described by Emily Schacter, a former FDA expert, as minimal in light of scientific advances in analytics.
Adding urgency to the debate is new legislation allowing FDA to approve new biosimilars on a shortened regulatory review pathway, and to designate among them "interchangeable" biosimilars that have automatic substitutability in the pharmacy. The first "interchangeable" designation earns as much as 42 months market exclusivity.
In addition to Schacter's comments, workshop attendees heard anecdotal evidence of instances where differences between biosimilars and the original drug were significant. In Europe, for example, epoetin biosimilars to Janssen-Cilag's Eprex subcutaneous anemia treatment caused pure red cell aplasia (PRCA) when the company replaced its human serum albumin stabilizer with polysorbate 80. The problem reverted when this change was reversed, but later came back and was found to be caused by the product's use of uncoated rubber stoppers.
These experiences were cited by industry presenters at the workshop as a reason to require distinguishable INNs for all biologics, in addition to improving pharmacovigilance generally.
Several presenters, however, pointed out that Europe has had more extensive experience with biosimilars than the US since 2006, and no adverse experience reporting or pharmacovigilance problems have been experienced there in that period.
The rising cost of original biologics in the US was portrayed as a reason for FTC to counter state legislation to encumber biologic prescriptions with prescriber-notification and patient-consent requirements, and to encourage FDA to stick to the single INN naming policy for biosimilars.
Express Scripts SVP and chief medical officer Steven Miller told the workshop that "specialty drugs" (about 75% of which are biologics) account for $300 billion of the pharmaceutical spend, or 30% of all expenditure.
Aetna's VP/GM of specialty and home delivery pharmacy, Harry Travis, said that his company is spending 50% of all pharmacy money on specialty drugs, which are growing at a 15% annual clip compared with 5% for non-specialty.
Miller said that by 2018, about 4% of patients in the US will consume 50% of pharmaceutical spend, and most of it for biologics.
Arguing against a separate naming convention for biologics, Miller seemed to speak for most when he said: "The reality is that the system FDA has created in the US is safe and effective. It is safe and effective for the biologic companies to use today and it will be safe and effective for the biosimilar companies to use in the future."
Many of the 42 speakers at the workshop emphasized that biosimilars should not be expected to follow the regulatory and legal predicate established by generic drugs in the Waxman-Hatch Act, which balanced market exclusivity periods and shortened FDA reviews against patent protections for innovators.
The big US players in biosimilars listed by Bernstein Research senior analyst Ronny Gal included Novartis/Sandoz, Hospira/Celtrion, Pfizer, Actavis/Amgen, Boehringer Ingelheim and Mylan/Biocon, but he said they are not showing the price competitiveness that the marketplace is looking for.
Substitution barriers used by major innovator companies include volume-based rebates of as much as 45%–50% off list price for a contract supplying all of a plan's patients for a year. This makes pre-launch bids from a biosimilar company very difficult, Gal said.
Scroll down to see the next article