January 01, 2014
Private View: Meeting the chronic-disease challenge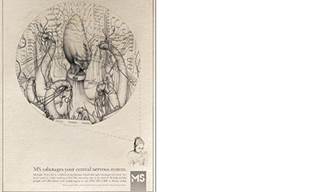 Freed of product claims and their regulatory encum­brances, well-conceived disease awareness communi­cations can be a powerful vehicle in establishing an urgent, emotional connection with an audience.
Having worked in a variety of therapeutic categories over the years, I've gained some valuable perspectives that can only come from hearing the stories of patients and caregivers who live with chronic, challenging diseases. Sharing their first-hand experiences can often help us understand and give expression to the unique and personal struggles that are inherent in diseases such as Parkinson's or Epilepsy.
It's not-at-all uncommon for an almost offhand statement during a patient interview to become the inspirational spark for some pretty great work. I'd wager that might well be the case in at least some of the examples that I've included here.
No matter what the source of inspiration, all of these examples use a mixture of analogy, metaphor, or simply beautiful execution to effectively convey what it feels like to have the associated disease. And to me, that's the most compelling disease awareness there is.
---
John Diaz is Vice President/Creative Director at Topin & Associates
Scroll down to see the next article