September 15, 2011
Private View

Mike Hartman is head of creative at LBiHealth
Let's talk about YouTube. Sure, you can find cats playing the organ, or prove to your friends that there really was a show called Manimal. But what about harnessing some of the two billion plus daily views for healthcare needs? Individual brands may be sluggish at leveraging the power of branded or unbranded channels, but on the corporate level they're tuning in. Here are a few standouts.
• YOUTUBE.COM/PFIZERNEWS
Fully skinned with an ocean view and complete with a custom video player as well as a non-standard navigation, this channel really seeks to break out of the box. They are owning the space not just through branding but also through engagement. By having a think about information architecture and creating an intuitive user interface, Pfizer goes a step beyond traditional scroll-and-pick digging for videos.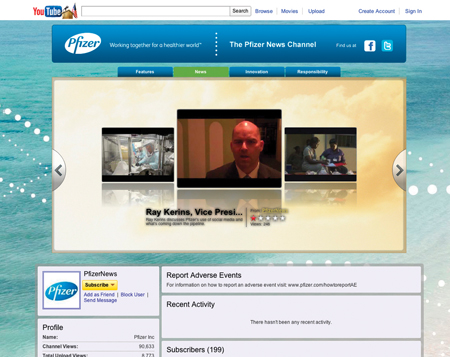 Agency: In-house, with consultation from WCG
Client: Pfizer
• YOUTUBE.COM/LILLYHEALTH
Fresh. Right out of the health oven. Give this newbie time, and it should start cooking with impressive views based on well-produced, patient-centric content. The Lilly Health channel focuses on leveraging the equity of its Lilly for Better Health program and re-energizing the initiative with videos on everything from general health and wellness to employee outreach.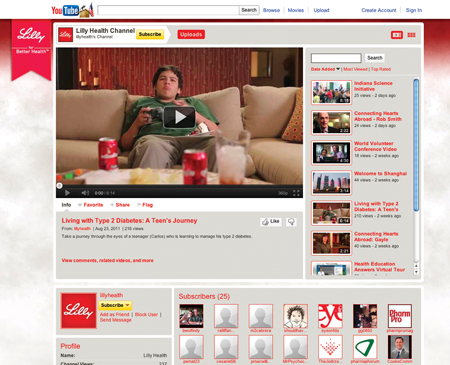 Agency: Undisclosed
Client: Eli Lilly & Co.
• YOUTUBE.COM/BOEHRINGERINGELHEIM
Bright and inviting. It made me smile. Seriously. The cartoon-like, gradient-laden backdrop combined with the iconic, hand-sketched social-media callouts create a vibe that's hard to deny. I think it's called fun. And that playfulness draws you in to explore both videos and what Twitter, Facebook and Flickr have in store. Special props for leaving the comments section open.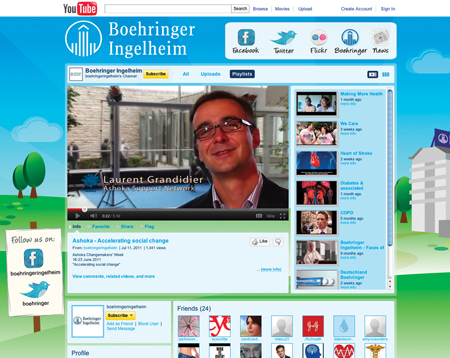 Agency: Nitro Digital
Client: Boehringer Ingelheim
• YOUTUBE.COM/NOVARTIS
Boasting the most channel views in this group of trendsetters, the Novartis channel bridges the gap between channel and website with a navigational treatment that opens new windows and directs users to extra content. This reciprocal-linking strategy demonstrates a considered approach to boosting organic search results. Nice integration of social media here as well.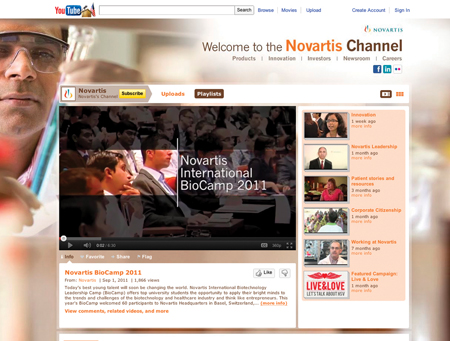 Agency: Ruder Finn
Client: Novartis
• YOUTUBE.COM/GSKVISION
The vision is clear. Use the medium to give a comprehensive view of what the company is up to, from financial results and careers to global health and humanitarian initiatives. Relying solely on the platform's standard feature set, the channel makes nice use of playlists. A neat little hub.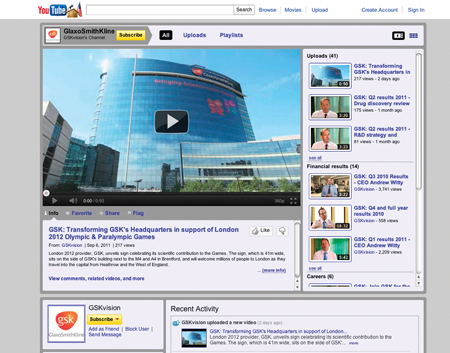 Agency: In-house
Client: GSK Vision
• YOUTUBE.COM/AMGEN
The Amgen channel is all about the science. It's what they do so well, and they're doing a great job bringing high-end scientific animation style and design sensibilities to the forefront. This one leaves out the bells and whistles in favor of merchandising some deep, valuable video content.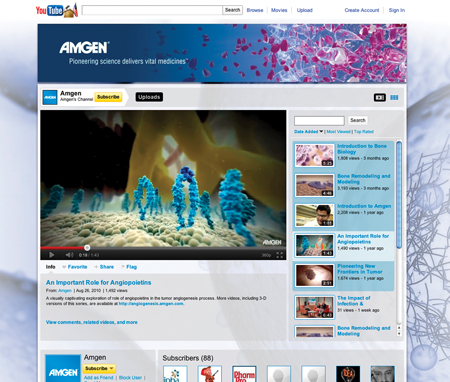 Agency: In-house
Client: Amgen
PRIVATE VIEW: Each month, a creative director from the industry reviews a number of medical advertisements. Please note that the views expressed are those of the author and not the views of MM&M magazine. For more information, or to be considered as a guest reviewer, please e-mail Kevin McCaffrey at Kevin.McCaffrey@haymarketmedia.com.
Scroll down to see the next article