July 01, 2014
Top 100 Agencies 2014: closerlook
Download:

closerlook0701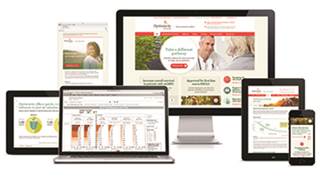 Closerlook CEO Dave Ormesher tells MM&M that this Chicago shop has had a "phenomenal two years." Not only has the agency added a floor of space in its offices, but it has also brought on 41 employees since a 2012 check-in.
It also appears that the pharmaceutical world has started to more fully embrace what this now 111-employee business has been talking about since its founding: relationships are everything and the first step in establishing them is to utilize the information at hand to create on-target communications that get the salient points across in the most effective way.
closerlook says its clients like the firm's relationship-management focus for several reasons. Not only does it let the message be more finely tuned, but it also allows the agency to pinpoint what promotions are working, which ones are failing, and which HCPs are being completely overlooked but should not be.
In one example, closerlook pulled the data from touchpoints deployed to promote a brand across a number of agencies and created what Ormesher says could best be described as a master dashboard that mapped the touchpoints and showed not just who was being targeted, but also who was being left out, and if anyone was being needlessly bombarded by multiple points of contact when one would do.
This sort of insight is what has helped closerlook change how pharma clients like Astellas, Takeda and Novo Nordisk perceive the value of relationship marketing. It has also changed when these clients deploy it.
"In the past, RM really stood for more coordinating emails," Ormesher says, "and I think it's become much more of a strategic center of the brand plan. In fact, we're beginning to see brands identify relationship marketing agencies of record… it's more than just another channel or a technology."
Although the company has typically been tapped to work on mature products—when companies want to ease off promotional spend because something newer is coming, or generics are poised to chip away at a branded market—things are changing. Ormesher says pharma clients are realizing this granular insight could have much promise on the front end, were they to allow closerlook to identify a prescription-ready population before a pipeline drug even makes it onto the FDA's approval calendar.
In this scenario, he says, closerlook can fashion a predictive model that identifies doctors likely to prescribe a pipeline medication, and proceed to cultivate a relationship that can have an immediate post-approval impact. A recent example for an unnamed client was a late-night FDA approval that a client was then able to chase with a launch message deployed to 2,000 physicians who were ready and waiting to add the drug to their list of prescribed treatments.
Ormesher says this same information has a new application in the context of healthcare practice consolidation, in that the knowledge of what doctors want in a treatment gives pharma companies and their marketers an insight into a physician's needs that payers have traditionally not had. He says this would then allow pharmaceutical companies to approach groups like accountable care organizations as a partner, invested in outcomes and physician priorities, instead of simply being a brand that wants in on a formulary.
Yet for all the catching up, this RM revolution counts as what Ormesher calls Horizon one, which will propel business for the next few years, and the company is already working on the what's next ("Horizon two"), testing out theories and strategies so the foundations and skill sets will be sets when clients are ready for that next stage of the relationship.
Scroll down to see the next article