October 16, 2014
Mucinex gets a revamp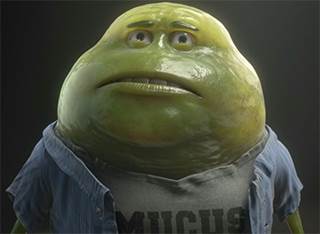 Mucinex's easy-to-hate green blob is getting a makeover, Reckitt Beckinser (RB) announced this week. Mr. Mucus, the green antihero who resides in patients' chests, will receive a new, more relatable look, personality and voice. The multichannel campaign,, "Let's End This," is the brand's first new campaign since "Mucinex In. Mucus Out" arrived 10 years ago.
Accompanied by a new tag line - "Start the Relief. Ditch The Misery. Let's End This" – the initiative kicked off with a teaser commercial on October 13. The full spots will be released to coincide with the arrival of cold and flu season. Native content for the campaign will appear on The Huffington Post and Buzzfeed.
As for Mr. Mucus, he will no longer simply represent congestion as a 2D character, but will instead live in the same world as sufferers. "By letting him interact with real actors, rather than just in an animated world, we can bring the ways cold and flu symptoms truly affect people's lives," says Shivanthi Vannan, marketing director at RB. McCann New York, RB's agency of record since May 2014, lead development of the campaign.
Tom Murphy, chief creative officer at McCann New York, shed further light on the campaign's evolution in a statement: "This guy [Mr.Mucus] has the distinction of being one of the most recognized but least liked ad characters in the world. In other words, he is a huge asset to Mucinex. We're going to use him in much more relatable ways and make him the snotty little anti-hero you love to hate."
According to the statement published in Advertising Age, Mr. Mucus "will come out into the real world and flaunt the many ways he provokes misery" in new ads. He also has a new voice, described as a bit kinder, gentler and "less New York," during his first cameo appearance in a teaser ad for the new campaign.
That sentiment was echoed by Vannan. "With the new campaign, we made sure we built on recognizable pieces of the brand," she says. "But we are revamping him in a way that will resonate with customers and that they will be able to connect with. The attitude was always there in the brand—we are now being more overt about it."
Scroll down to see the next article