October 01, 2015
Best Consumer Print Campaign: 2015
Download:

BOTN Best Consumer Print Campaign.pdf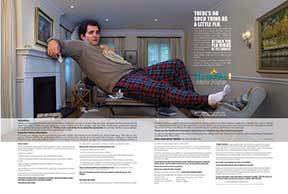 Gold
Tamiflu Search Print Ad
Agency: HealthWork, powered by BBDO and CDMi
Client: Genentech
A nondisclosure agreement prevents us from revealing the information about this campaign that was included in its award submission.

Tamiflu is a prescription medicine for flu treatment and flu prevention in adults and children.
A Google search for "Tamiflu print ad 2014" and "Tamiflu print ad 2015" delivers images that are very similar to images used in print and TV campaigns that won MM&M Awards in 2013.
The creative illustrates the tagline, "There's no such thing as a little flu" by showing giant-size flu sufferers dwarfing their surroundings.
One of the Google--revealed ads shows a woman with a red nose and red eyes wrapped in a blanket on a bed that's barely big enough for half her body. Another shows a man, with a similar look of red-eyed, red-nosed suffering, splayed across the majority of a living room. He's sitting on a sofa so tiny that it's hard to see with his head touching the ceiling. His arm is draped across a fireplace mantel and he's holding a tiny tissue.
"A big campaignable idea—it's visual and arresting," said one judge.
"A great iconic campaign that delivers great empathy," a second judge said.
Additional judges praised the campaign as smart, creatively bold, emotional and relatable.
Silver
You Can Do It
Agency: Saatchi and Saatchi Wellness
Client: Abbott Diabetes Care
With FreeStyle Libre, diabetes patients simply scan a wearable sensor to check glucose.
The You Can Do It campaign uses a photo-realistic illustrative style and some double entendres, such as "You Can Do It in Public."
Judges found it empowering, clear, clever and scalable.
Results included record sales and 780,000+ social-media impressions.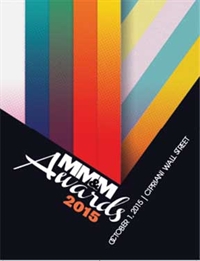 Finalists
■ CDMiConnect and Astellas/Medivation for Xtandi Take It On
■ Digitas Health LifeBrands and Insulet for Omnipod Consumer Campaign
■ HealthWork, powered by BBDO and CDMi and Genentech for Tamiflu Search Print Ad
■ Publicis LifeBrands Evolvr and Mylan Specialty for Life Happens. Be Prepared print campaign for EpiPen Auto-Injector
■ Saatchi and Saatchi Well­ness and Abbott Diabetes Care for You Can Do It
Scroll down to see the next article