July 08, 2015
AdComm Preview: Eli Lilly's lung-cancer drug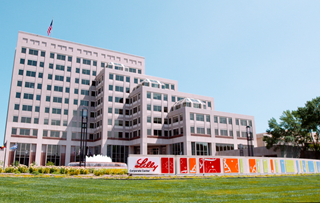 An FDA advisory committee is expected to convene Thursday to discuss whether to recommend approval of Eli Lilly's investigational lung-cancer antibody, necitumumab, as a first-line treatment in patients with the squamous form of the disease.
The American Cancer Society estimates that 30% of lung-cancer cases are squamous.
Lilly submitted data from two Phase-III trials. In the SQUIRE trial, patients taking necitumumab along with one or two chemotherapy agents lived roughly a month and a half longer (1.6 months, exactly) than patients receiving chemotherapy alone.
The patients selected for the SQUIRE trial never received chemotherapy prior to the trial. Its results will inform the agency's discussion about the drug's efficacy.
The INSPIRE trial, however, did not end on a high note. The study was stopped early due to 66 patients dying out of the 633 patients enrolled in the trial at the time. An independent committee noted an "imbalance" on the number of deaths attributed to blood clots. The INSPIRE trial showed no difference in overall survival between patients taking necitumumab and chemotherapy and patients taking chemotherapy alone, either. Its results are a part of the drug's safety submission.
The committee will be tasked with evaluating if necitumumab's month-and-a-half survival benefit outweighs its potentially deadly blood-clotting risk.
Another drug with an incremental survival benefit, Lilly's Cyramza, which received a second-line indication in non-small cell lung cancer, was recently approved. Eli Lilly CEO John Lechleiter told The Financial Times in February about the company's efforts in oncology, saying: "I get irked when some well-meaning commentator says two months isn't much—they're probably not dying from cancer."
Scroll down to see the next article