February 18, 2016
'Deadpool' Imparts a Lesson to Pharma Marketers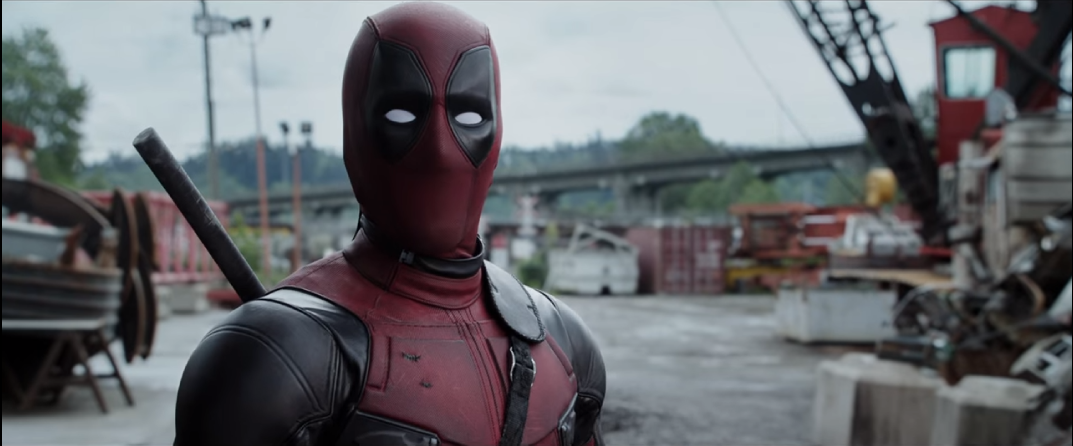 Do you know about "Deadpool?" Neither did I. Then, I realized. The "Deadpool" story is every pharma brand.
Now that we're on the same page, here's the marketing part.
Twentieth Century Fox went social to promote the film. ComScore's PreAct found pre-release chatter about "Deadpool" was the second-best ever among Marvel Studios adaptations and that the Internet conversation was 98% positive. BoxOffice Media predicted the opening weekend would rival that of bigger releases such as "Ant-Man" and "The Amazing Spider-Man"—and was proven clairvoyant when the flick earned $132.7 million, the biggest first weekend gross in history for an R-rated movie.
Most essential for pharma marketers, "Deadpool" offers a blueprint for brands seeking to activate their own base on social media and broaden their message reach with credibility.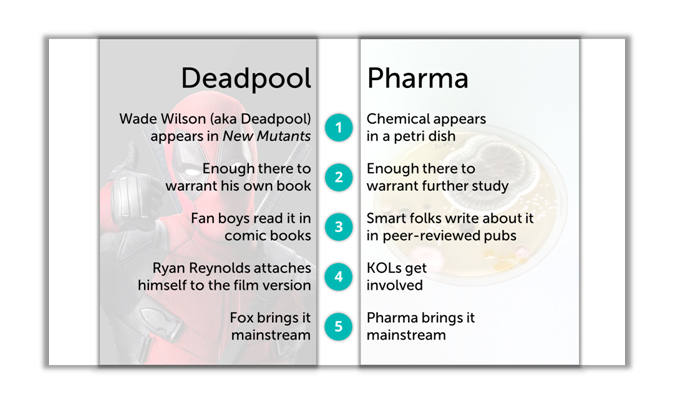 Be Authentic
Actor Ryan Reynolds plays the title character. He's also the movie's producer. Many of the posts come from him. It's authentic.
Think of Reynolds as a KOL. He is vested in the science, knows the backstory, believes in the product's potential, and wants to see it win. KOLs make your story their story. They are authentic and powerful—especially in social media.
Embrace All Constituents
Reynolds took to Instagram last May. Yes, he talks about the movie, but he also features pictures of himself with diehard fans, including kids from the Make-a-Wish Foundation.
The lesson here? Your story is more than science. On social media, embrace patient advocates and all organizations around your community. KOLs, patients, and associations dominate social engagement among healthcare professionals.
Get Viral
Fox, the studio behind "Deadpool," jumped into social big. It identified the character's most rabid social audience and gave them images, stories, and videos they could leverage.
By feeding content to the movie's social fans, they activated the brand's most vocal advocates. The core audience contributed more than 700 articles to Moviepilot, a site that helps "studios trigger, fuel, and amplify positive conversations about their movies."
Break your story into pieces that your community can repurpose so that it echoes in all channels. In old-school terms, think review articles. In social terms, think retweeting charts or creating approved branded assets that you can personalize in email campaigns.
The social market for HCPs is much bigger than you think
More than half of gastroenterologists use social media to connect, collaborate, and learn. One out of two oncologists and rheumatologists do, too. As do more than a quarter of cardiologists and about one in four hematologists—and the list goes on.
More impressive is the growth. The community around the 2015 American Society of Hematology's meeting created more than 103 million impressions on Twitter. That's up seven times from 15 million impressions in 2013. The size of the community and its activity each also grew at better than a 100% compound annual growth rate since 2013.
Competition can be fierce
Like Fox, some companies jumped on social early and in a big way. Roche, Bayer, Bristol-Myers Squibb, Amgen, and Novartis each hit the top 10 in share of social voice at least one day during ASH in December. Our analysis went further and found that AbbVie, BMS, Amgen, Celgene, and Takeda hit the top five for engagement on social media during ASH.
Still, there's room for new entrants. Each community is different. Some are big. Some have competition. A few have both. Eight companies hit the top 10 for share of social voice at least one day to compete for oncologists and the American Society of Clinical Oncology's 277 million impressions at its annual meeting.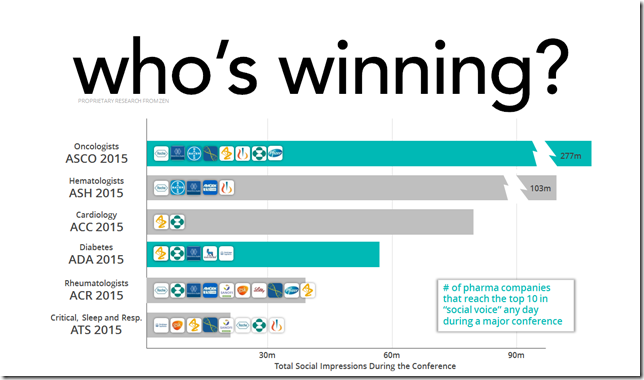 Ten companies competed hard for rheumatologists at the American College of Radiology's meeting and their 30 million impressions. On the other hand, only two companies—AstraZeneca and Merck—placed at the American College of Cardiology's conference. No brands peaked at the American Psychiatric Association or the American College of Obstetricians and Gynecologists' annual meetings.
Social is a big deal in healthcare. Marketers can use it to create positive chatter and win greater awareness, recognition, and credibility among target audiences. Pick your community. Be authentic. Go broad. Get viral.
Charles Benaiah is CEO of Watzan.
Scroll down to see the next article