June 01, 2012
Devices & Diagnostics: The App Avant-Garde
Download:

App Avant-Garde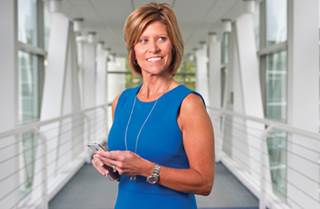 Anne Whitaker, president, North America, pharmaceuticals, Sanofi
THE RACE FOR A WEARABLE WELLNESS TRACKER

Makers of medical apps and mobile health devices are keeping a close eye on two entrants from the consumer-facing health and wellness world—Fitbit's Ultra Wireless Tracker and the Nike+ FuelBand. At first glance, they look like souped-up pedometers, but they're much more than that and they come pre-wired for the electronic health record revolution.
Fitbit, which looks something like a futuristic clothespin with a digital display, has actually been around since 2008. Users can input information on their diet, weight, body fat, heart rate and glucose readings through the Fitbit website. It tracks movement and sleep. As with WellDoc's DiabetesManager or Sanofi's iBGStar, users can share information easily.
"If you have all that data on yourself, you essentially have your own EMR within the Fitbit system," says InTouch's Jim Dayton. "But they've also been very smart and made open APIs for other applications like Microsoft HealthVault, so you can port your data over there and if your doctor uses HealthVault, it's right there for them. When my doctor saw the Fitbit and the data I was collecting, he said 'This is awesome. I can keep this right here in your record and I can actually practice preventive rather than reactive medicine because I can see what you're doing.'"
Then there's Nike's FuelBand, a chunky black bracelet that tracks movement and caloric burn and then game-ifies exercise by awarding you Nike Fuel based on your day's exertion, urging you to set and beat goals. The company calls it a "scoreboard for your wrist." As with Fitbit, the data FuelBand collects is beamed up to the cloud so it can be accessed through the website—or ported to an EHR.
"I think something like that has incredible sticking power," says Sanofi's Dennis Urbaniak, VP US diabetes. "The growth in that app and the way it's being used, from run tracking initially to, now, broader overall exercise management, is very interesting."
Jawbone's UP is another newer entrant in the race. UP's wristband is a little more discreet than The Swoop's. It tracks movement, sleep patterns and nutrition, along with an accompanying app and program that takes a social bent. Launched last year, UP got off to a glitchy start, and Jawbone, better known for its Bluetooth headsets and wireless speakers, had to issue a money-back-no-questions-asked guarantee. But the product's social media-centricity sets it apart from Nike and Fitbit.
FuelBand, launched in January, is headed that way too, though. It's part of a Nike+ line including a sportswatch, an iPod Nano with built-in pedometer and a GPS app for smartphones, all of which will generate NikeFuel, which a spokesperson described as "a standardized metric in which you can compare activity in an intuitive and motivational way with other people" and allowing "everyday athletes to compare themselves with each other or with elite athletes, even if they are participating in different types of activity."