February 01, 2012
Medical Advertising Hall of Fame: Lasting Legends
Download:

Living Legends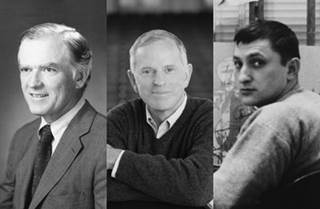 From left: Charles P. Daly, Albert G. Nickel and Ernest Smith
Albert G. Nickel
CAREER HIGHLIGHTS
1960s
Started out at Pfizer
1970s
Joined USV International, then went to the agency side at J. Walter Thompson. Later he became a founding principal of Dorritie-Lyons
1990s
Dorritie-Lyons became Dorrite Lyons & Nickel. He took the helm as president and COO
2000s
Named co-chairman at TBWA World Health, then chairman of LLNS Healthcare Communication
As co-founder of Lyons Lavey Nickel Swift (now LLNS), he is best known as "the consummate client service professional." That legacy is as distinctive and personal as Albert G. Nickel the man.
The industry in which Nickel's people and business skills blossomed isn't what it used to be. "I think it was completely different than it is now," he says. "Now, there's so much pressure on profits and margins. I don't think it has the same feel as it did before. "
Nickel began his career as a market research analyst for Pfizer. The job came through a campus recruiter whom he met after graduating from Indiana University in 1967. "I joined Pfizer for two reasons; one was New York City, which gave me a sort of a thrill," he reminisces. "It was also a different business than I knew about or even considered—prescription drugs were not something on my menu at the time."
His menu would expand. "There were other interviews, but I felt [the healthcare industry] was much more of a learning environment," Nickel says. Indeed, his time at Pfizer would become the teachable moment of his career: "That's when I really learned the health business. They taught me the language, therapeutic categories, specialties, and all the terminology that goes with our business."
Nickel then went to USV International as a product manager, which expanded his international experience and proved helpful when he became co-chairman of TBWA WorldHealth in 2002.
In the early 2000s, LLNS became a part of holding company Omnicom. The turn of the 21st century also saw measured media spend for DTC pharma advertising really take off, with LLNS right in the thick of things. "My favorite part of the industry was my last stop with our own agency as part of Omnicom," Nickel says. "It was a fantastic experience, and we got into DTC in a big way. We grew into a global entity with healthcare communications around the world."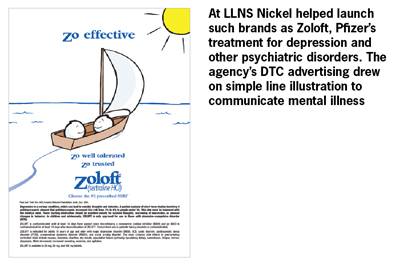 During his time on the agency side, Nickel helped launch such brands as Zoloft and Celebrex for Pfizer, and Bayer's Cipro. "All of the drugs I worked on…offered specific challenges," he says. For Zoloft, the challenge involved communicating mental illness. "It's unsolved and unspecific compared to treating an infection with Cipro," he explains. "With depression, it's much more difficult to treat, and treat specifically."
These days, Nickel keeps active, both through sports and through his association with such non-profits as Washington and Jefferson College, the Wilton Family YMCA and the Visiting Nurse and Hospice Organization. And even in his retirement, Nickel's legacy reverberates within the agency he helped start, explains Sharon Callahan, president and CEO of VUE Group (a mini marketing network that houses LLNS and three other Omnicom shops): "Al's key contribution to our industry was knowing the value of a great culture. The culture that Al created at LLNS recognized and maximized the talent of its people and created unprecedented business results."
What's his advice for young professionals looking to make their own mark? Stay the course. "There will always be something positive in the future," Nickel says, "and you have to be aware of that. Sooner or later, it will come along if you keep working toward it; you just need to be persistent in getting there." —Kevin McCaffrey