October 31, 2013
Ariad pulls Iclusig from the market after FDA request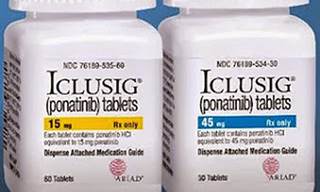 Ariad Pharmaceuticals has suspended distribution and marketing of its leukemia drug Iclusig, almost a year after the FDA approved the treatment for chronic myeloid leukemia and Philadelphia chromosome positive acute lymphoblastic leukemia.
The company said in a conference call Thursday that it will continue to market the drug in Europe and has kept international authorities in the loop about what is happening in the US.

Thursday's freeze follows the Oct. 18 announcement that the company halted a Phase III trial because the regulator was concerned about blood clots among clinical trial patients. This is the same reason behind the drugmaker's current request.
Ariad CEO Harvey Berger said the company went along with the FDA's request even though "we do not believe suspension of marketing of Iclusig in the US is the only approach to its appropriate utilization."
The drug was approved in December 2012 under an accelerated process that allowed Ariad to market it while conducting additional studies. This is not uncommon for orphan drugs intended to treat rare diseases.
Ariad's Berger told investors "there's really nothing new in terms of the safety profile of Iclusig. No new types or forms of adverse events have been seen," and that the FDA was aware of these same issues when the drug was approved last year. Berger said he does expect the result will be a more restricted drug label, which will limit the patient population for whom doctors can draft prescriptions.
The FDA explained in its statement Thursday that the agency is holding off on definitively linking the drug to the adverse effects because the clinical studies that prompted the suspension did not include a control group. Without a control group, meaning patients not taking the drug, the regulator cannot apply if-then logic, but said the "increasing rate and pattern of the events strongly suggest that many are drug related."
The 2012 approval was notable partly for its speed—the OK came three months earlier than anticipated—and the price tag: $115,000 per year. The New York Times noted at the time that this was a 15% premium over competitors.
Executives said Biogen Idec's experience with MS drug Tysabri is an almost-corollary to their current situation, in terms of what types of communications the company may pursue when and if the suspension is lifted—patient, physician and distributor/pharmacy education. Biogen suspended Tysabri because it was associated with a deadly infection.
Ariad was not able to discuss how this would affect the sales force or its healthcare provider communications plan at press time.
An earnings call is scheduled for Nov. 6.
Scroll down to see the next article