September 07, 2007
Elsevier launches free site spanning oncology mags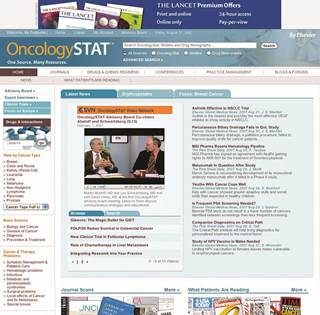 Elsevier is upping the ante for online medical publishing with an advertising-supported website for physicians using content from most of its more than 100 oncology titles.

The site, OncologySTAT, will target the more than 1 million US oncologists, hematologists, oncology nurses and other healthcare professionals specializing in cancer with peer-reviewed articles from Elsevier oncology journals, as well as brief summaries of articles appearing in major non-Elsevier titles and tools like drug and interaction databases. Free to physicians, who must register to gain access, it will be divisible by 29 cancer types, so that users can click on a tab to view a sub-site relevant to their specialty. The publisher aims to beef it up with video Webinars, interviews with prominent physicians, events and CME, along with blogs and forums.

From a commercial perspective, Elsevier aims to meet growing demand from pharmas for online advertising and promotion opportunities to healthcare professionals. "Industry wants online venues in which to communicate to and educate physicians," said Monique Fayad, SVP, publisher, OncologySTAT at Elsevier Health Sciences. "We were getting a lot of interest from pharma companies asking us for these things, and we didn't have the solutions that provided the reach and flexibility they were looking for." The site will also reach individual docs, rather than the institutional audiences targeted by the publisher's extant online offering, including its Consult suite of products and Science Direct e-journal.

Advertisers will be offered packages targeted by cancer type, keyword searches, PDF and video downloads, along with ads on the site's drugs and interactions section and weekly email newsletter.
Among Elsevier oncology titles included in the site are The Lancet Oncology, The American Journal of Medicine, The Breast and Blood Reviews.

Scroll down to see the next article