March 15, 2011
Idea for generic CME fund meets with skepticism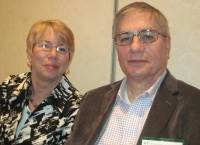 Medical societies and other providers have been under assault the last few years for the way they handle commercial funds for medical education. To decrease suspicion, some critics have suggested using pooled funds. One society exploring that idea got an earful from industry.
Last week at ExL's Support for Independent Medical Education conference, executives from the American Gastroenterological Association (AGA) proposed setting up a corporate education fund (CEF) to take aggregated contributions. An AGA education committee would decide curriculum topics and learning methods. All activities would offer CME credit and would meet all ACCME and pharma requirements. Unlike an endowment, CEF monies would be spent and replenished annually.
The fund "would refute the perception that any direct funding of an educational activity is tainted no matter what steps you take," said AGA senior vice president Michael Stolar. Aggregated money could also be used to fund CME programs that would otherwise not get funded because they lack commercial interest.
He said a generic fund would also counter criticism that organizations' offerings are skewed toward what money is available. If required, though, AGA would guarantee companies to produce one program in a therapeutic area of interest to the supporter.
"The days of asking companies to provide us with money with no concern for their therapeutic area or business interest are long gone," acknowledged AGA's Dianne Bach, SVP for corporate relations.
Still, Stolar and Bach had anticipated some skepticism, owing to the argument that pharma or device companies would be loathe to give grants for programs that don't align with their interests, and, also, that if widely adopted the CEF concept could render well-entrenched grant review systems obsolete.
In prepared slides, they wrote: "We have been asked to float this not entirely new concept by you. Do not shoot the messenger."
Reaction among the crowd of mostly pharma company supporters was mixed: by show of hands, one attendee thought the idea was great, 10 great but unrealistic, and three "Are you nuts?"
The reaction was understandable. The generic fund would eliminate the time spent preparing and reviewing funding proposals. Medical education and communications companies (MECCs) and pharma company medical education departments spend a lot of their time on that now. And supporters have designed elaborate grant application websites to demonstrate separation of grant-giving from marketing.
"This concept has come up before over the years, and our response was, 'Well, we didn't really think companies would do that.' And the response from people interested in it was, 'Have you talked to any of them about it?'" said Stolar. "And so this was an opportunity really to get that kind of response from industry people."
Indeed, pooled funding proposals have appeared several times: In a 2006 article in
Journal of the American Medical Association
suggesting that pharma give unrestricted funds to a consortium of academic medical centers, in 2007 within a set of recommendations from
the Macy Foundation
as a way to remove potential marketing bias from med ed, and again in 2009 when
JAMA called on associations to ensure that all industry funds are pooled and administered through a central repository
.
The pooled concept seemed to gain little traction until 2010, when
Stanford University School of Medicine
took a $3-million, three-year grant from Pfizer to support areas of Stanford faculty's choosing. Those areas turned out to be areas of "mutual interest," i.e., those in which Pfizer sells key products, although curriculum design is handled by the school.
In that respect, Stanford's approach seemed more like a block grant—pharma funding that has a predetermined therapeutic focus but which is administered independently, like
Wyeth's $500,000 independent CME block grant to the Medical Association of Georgia in 2006
.
Nevertheless, "It was a stimulator," Stolar said of the Stanford program. "Why can't AGA use the same concept?"
Armed with industry response to the concept, Stolar said he is drafting a memo to the AGA's board—comprised of gastroenterologists in academia and private practice—for it to formally consider. Does he think AGA will follow through? "I would be surprised if we do."
Scroll down to see the next article