May 20, 2014
OPDP takes on sales aid for alcohol drug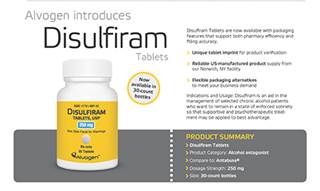 The Office of Prescription Drug Promotion fired off yet another untitled letter to a marketer over a too-brief indication that had been printed in a promotion.
In this case it is for the sobriety assistance aid Disulfiram, made by Alvogen, and a sales aid that skipped information such as the part of the PI that says, "Disulfiram is not a cure for alcoholism," as well as including text that notes, "When used alone, without proper motivation and supportive therapy, it is unlikely that it will have any substantive effect on the drinking pattern of the chronic alcoholic."
Instead, the yellow, grey and white one-sheet includes only the first indications and usage paragraph. This abbreviation is only part of the agency's problem with the promotion: the marketer has also left off warnings about a potential drug-alcohol reaction and precautions delineated in the PI, which OPDP says address "the use of identification cards for patients under Disulfiram treatment, dependence and abuse," among others.
OPDP writes that omitting the drug's risks "is particularly concerning considering that the Disulfiram PI includes a Boxed Warning," which means the piece "misleadingly suggests that Disulfiram is safer than has been demonstrated."
The drugmaker has until today to respond to the May 5 letter.
Scroll down to see the next article