December 22, 2009
Shire Tweets ADHD education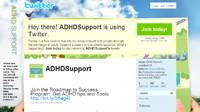 Shire has launched an ADHD Support Twitter page (twitter.com/adhdsupport) to complement its unbranded education site ADHDSupport.com.
The Twitter feed, which boasts 186 followers, has been live, if sparsely updated, since October – mostly with links to ADHDSupport.com and other ADHD education resources. The page advises visitors: "At this time, we aren't able to follow other users. You can provide comments toll free at the Shire Customer Service Center."
As for its decision not to allow direct messaging through the feed, Shire spokesman Matt Cabrey told MM&M, that "Shire's approach at this time is to carefully manage the dissemination of information in a way that is consistent with existing industry regulatory guidelines, and we therefore have chosen to not offer a direct-messaging feature available through social media vehicles like Twitter."
The direct-messaging feature enables conversation about the disease state or treatment options. When that kind of dialogue begins to happen, industry would be required to disclose safety and prescribing information for the drugs being discussed. Social-media tools like Twitter do not allow for the level of detail needed to comply.
Topics to be covered by the Twitter page include the latest ADHD research, tips, resources and events of interest to the ADHD community, and the site may feature guest Tweeters.
"Extending our ADHD resources through Twitter is part of the ongoing commitment of Shire to provide education and support to patients and caregivers," said Shire SVP, ADHD Business Unit Michael Yasick in a statement. "By providing access to information from ADHDSupport.com via Twitter, we are able to reach people who are looking for ADHD information in untraditional yet increasingly popular places like social networking sites."
The Twitter feed is not Shire's first use of social media. In May its GI team worked with the Crohn's & Colitis Foundation of America on an IBD-related awareness initiative called the "Virtual Walk." The program was driven through Facebook.
Scroll down to see the next article