January 27, 2014
What payer concerns? Sovaldi ahead of curve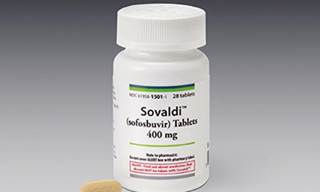 Uptake of Gilead hep. C drug Sovaldi remains robust, according to prescription trends, suggesting the drug could eclipse analysts' previous blockbuster forecasts.
The drug saw 2,488 total prescriptions (TRx) for the week of January 17, according to prescription data from IMS Health, as reported Friday in a note to investors by Leerink analyst Howard Liang. Consensus among analysts was 882. TRx for Sovaldi are now 2.4 times higher than for the older protease inhibitors Victrelis (from Merck) and Incivek (from Vertex) for the first six weeks, Liang wrote.
"If the TRx trend in the first 6 weeks continues for the remainder of 1Q, this would translate into US Sovaldi sales of $1.3B vs. $1.1B from last week's trend analysis—well above our estimate of $300M (US) and consensus of $326M (WW) for 1Q:14," the analyst noted.
Looking at the same TRx data, ISI Group's Mark Schoenebaum, in an investor note of his own, projected that new prescriptions could push Sovaldi past $5 billion in sales its first full year on the US market.

Those projections are colliding with payers, though. Sovaldi, approved December 6, carries a price tag of $84,000, threatening sticker shock among payers and pharmacy benefit managers—Express Scripts and CVS Caremark among them. In a report today, Bloomberg cited the PBM Catamaran as saying it pays $66,000 a year for the current HCV standard of care.
Catamaran's chief financial officer told the news service that breakthrough HCV treatments like Sovaldi are threatening to break the bank and have prompted some prescription plans to employ formulary management tools to better manage these costs. AbbVie and Bristol-Myers Squibb, both of which are planning to launch HCV regimens soon, are in for the same treatment, the report notes.
Meanwhile, Gilead COO John Milligan confirmed with Bloomberg that it will take three to six months from Sovaldi's approval date to formalize coverage with payers and PBMs, but for right now "most" plans are covering it.
A poll conducted for MM&M, prior to Sovaldi's launch, suggested that doctors had concerns about the drug's price tag, too. Out of 48 liver specialists surveyed, more than 66% said that price could play a significant factor in the drug's uptake. Such concerns could become even more pronounced when Sovaldi is combined with a second drug, now in development, boosting the price to $100,000.
Scroll down to see the next article