April 01, 2013
JAMA increases its mobile reach with Network Reader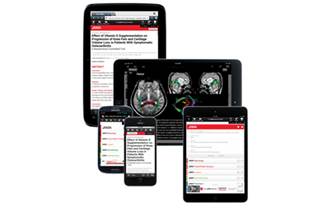 Medical publisher and news source JAMA Network's latest launch—the JAMA Network Reader—is finding new ways to engage readers and advertisers. The app, which launched March 6 and optimizes content from JAMA and nine specialty journals, is drawing 75% of its traffic from phone and tablet users, whereas JAMA Network as a whole gets about 88% of its traffic from laptop and desktop users.
Publisher Tom Easley and senior product development manager Paul Gee told MM&M via email that the new tool offers readers a streamlined user experience that fits the device while at the same time offering advertisers "rich experiences on print, web and mobile platforms that engage physicians and include targeted, effective advertising solutions for media."
The app is free, for what could be called a getting-to-know-you phase that Easley and Gee estimate could last up to six months. The executives said they are still determining a final pay model and that for now the goal is to let readers share their likes and dislikes. It's also an opportunity for the publisher to get to know readers. "We think that the app will be used primarily to read current and very recent content on mobile devices," and the duo said they're looking to find out if readers want to dive deeper "than 1–2 print issues," of if the users will use the app to curate content. They said that use trends will help them figure out how big the library should be—it currently holds articles from 2012 onwards.
Scroll down to see the next article