February 01, 2012
MM&M Awards: The Hunt for Red October
Download:

2012 Awards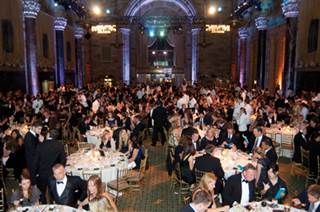 The MM&M Awards 2012 program is open for business. Our new Awards website – awards.mmm-online.com – contains all the information you need on the 2012 categories, entry rules and procedures, important dates, sponsorship opportunities, previous winners, 2011 highlights, and how to become a judge.
There is no greater accolade in healthcare marketing than winning an MM&M Award because every submission is judged by an independent panel of seasoned industry experts. It's not enough for entries to just look good, either; they must also prove their effectiveness.
This year, we made some important changes to the program.
The biggest is that we have introduced two stages of judging: the first, online, and the second, live in person. Accordingly, we plan to at least double the size of our judging panel. The advantages are threefold: each entry will now be seen by a larger and more varied group of judges; we will have greater flexibility to match judges' skill sets with specific categories; and we will have the option of recruiting more non-local judges, who may have been precluded in the past by distance.
In addition, for the majority of categories, we will implement an advanced scoring system that will recognize individual components of the work and provide the judges with a more robust and consistent framework for scoring.
We have introduced two new categories for 2012, covering mobile apps for both consumers and HCPs. Note also that the Agency Self-Promotion category will now be scored entirely by judges from the pharma/client side. No agency-based judges will be involved.
We believe these changes will further increase the fairness, thoroughness and efficiency of the judging process, helping us identify and honor the most deserving work—and, ultimately, add even greater value, relevance and stature to this program.
As usual, the identities of all gold and silver winners will be withheld until the spectacular gala dinner, which will be held at New York's decadent Cipriani 42nd Street on October 9, 2012. Not even the judges will know the results until the moment winners are called to the stage; the suspense and elation of claiming gold in front of several hundred peers is second to none. Not to mention the celebration that follows. But you do have to enter first. You can find all the information you need at awards.mmm-online.com.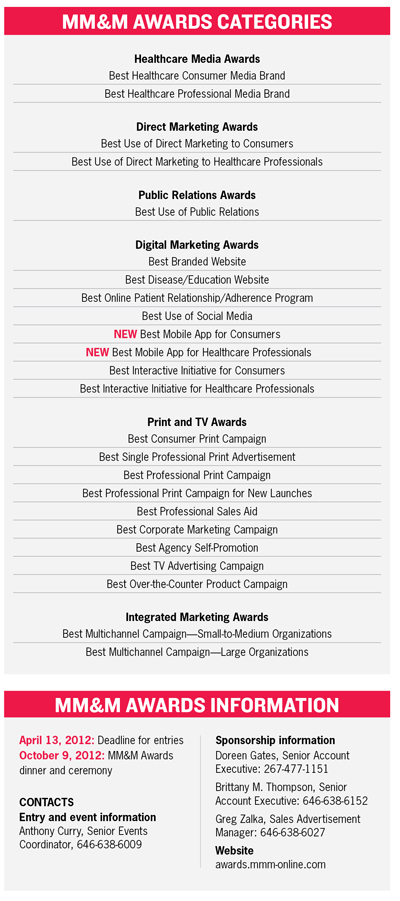 Scroll down to see the next article