November 18, 2014
Five things for pharma marketers to know: Tuesday, November 18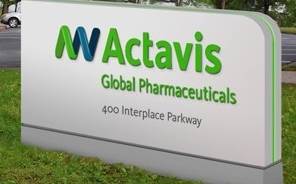 Actavis's $66 billion offer to buy Allergan was an eye-watering amount for Valeant, but hedge funder Bill Ackman came off $2.5 billion richer, even though he'd been pushing for Valeant to buy up Allergan. Bloomberg reports that the hedge funder still benefitted because the value of his Allergan shares has almost doubled thanks to Actavis's offer.
Reckitt Benckiser's split into a consumer division and a separate pharmaceutical business will happen in December. The consumer unit, which the New York Times reports will include products such as Clearasil, Lysol and Durex condoms, will become independent after the fourth quarter when the pharmaceutical division, known as Indivior, becomes publicly traded. The company is calling the split a "de-merger."
The FDA's decision to pull Ranbaxy's rights to generic Nexium looked like a move that would provide AstraZeneca with some long-awaited competition for its branded GI drug. The Wall Street Journal reports, however, that Ranbaxy has filed a lawsuit in which it says the regulator's decision was "arbitrary and capricious." The Journal also notes that the court's decision "hinges on differing interpretations of federal law that govern FDA authority to approve generic drugs."
GSK is employing mobile health sensors in a small study, mobihealthnews tells us. Participants used Vital Connect's HealthPatch MD and ActiGraph's activity monitor to record their vital signs, electrocardiogram data and activity levels. Patients would enter this information into the Medidata app, which would then be uploaded into the lab's clinical record. The Medidata team and GSK hope to use the data from that study to hasten clinical trials as well as improve the experience for participants.
The Indian government may break Bristol-Myers Squibb's patent for leukemia cancer drug Sprycel (dasatinib), the Wall Street Journal reported early Tuesday. The Indian health ministry said the drug is too costly and recommended local manufacturers make generic dasatinib through a compulsory license, which allows them to bypass patent laws. India's Trade Ministry, however, opposes the recommendation, saying it "doesn't see an urgent need to break the patent," according to the WSJ.
Scroll down to see the next article