July 05, 2016
Dudnyk 2016

Each year when MM&M conducts its interviews for the profiles that comprise the bulk of the Agency Issue, a single trend or catchphrase emerges from the collective din. A few years ago, it was big data/analytics; some years before that, it was "we're seeing more and more interest in digital."
In 2016, execs from agencies of all sizes and stripes have been keen to herald their interest in the rare disease/orphan space. When this supposed trend — and the quaint description of the orphan space as "emerging" — is relayed to four members of the Dudnyk executive team, you can almost hear their eyebrows arching skeptically. Dudnyk has been a go-to agency for companies in this space for nearly a decade. Its first orphan-disease assignment commenced in 2009; Dudnyk still works on a handful of brands that were added to its roster around that time.
But those executives — president Christopher Tobias, EVP and creative director Laurie Bartolomeo, EVP and creative director John Kemble, and EVP and chief strategy officer Drew Desjardins — decline to play the I-told-you-so card, focusing instead on why makers of rare disease and orphan drugs have long trusted Dudnyk with their business. "What people on those brand teams want is strong scientific rigor. They want an ability to understand complex situations and develop motivating experiences for professionals and patients," says Tobias.
Bartolomeo agrees, adding that Dudnyk's size (a head-count of about 90 full-timers) and structure make it a good fit for nascent biotech entities, most of whom lack the resources of their big-pharma brethren. "These companies are a little more nimble, so as an agency you have to operate the same way," she explains. "We're flexible. We can work within those timeframes."
That flexibility is crucial, given that no two orphan assignments are alike. "You can't apply a past rare-disease experience to the next one," Tobias notes. "There are vast differences in understanding these diseases. Some people who have them may not even be aware of the totality of their symptoms." Dudnyk's job, then, becomes "understanding the dynamics and relationships among key constituents," Desjardins says, which include specialty pharmacies and advocacy groups.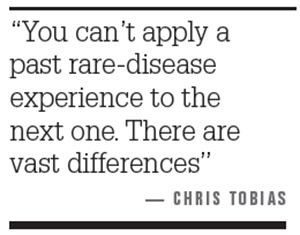 Companies playing in that space fueled Dudnyk's 15% revenue growth, to an MM&M-estimated $15 million, in 2015. The agency added six new clients, among them Flexion Therapeutics, Sun Ophthalmics, and Sunovion. It snared two AOR assignments, from Chiasma (for acromegaly drug Mycapssa) and BioBlast Pharma, and grew its relationships with existing clients Jazz Pharmaceuticals, Merck, and Shire.
The challenges Dudnyk faced in 2015 were related to that orphan-heavy client base. One was (and is) entirely out of its hands: "The unpredictability with these types of products is a little unsettling. Not that we're the only ones dealing with it, but it's a long road to approval," Tobias says. The other is finding staffers who not only have the deep scientific knowledge that working on rare disease/orphan brands demands but can also mesh culturally.
"We spend a good amount of time thoroughly exploring how people we choose to bring into the organization will align with our core values," Tobias says.
Scroll down to see the next article