March 13, 2008
Cook social media site to educate on ED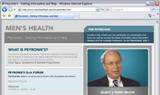 In an effort to educate physicians and consumers about a complex and painful form of erectile dysfunction know as Peyronie's disease, device manufacturer Cook Medical recently launched an unbranded physician education focused website found online at
MensHealthPD.com
.
The social networking microsite was designed to provide the most current information on Peyronie's, offering professionals and their patients public forums for discussing the disease.
"We are starting to think about how the future readers of medical news will gather their information," said SVP and global strategic business unit leader for Cook Urology, Jerry French. "When I talk to urologists now, these people are getting their information online. One of the hallmarks for Cook has always been education, especially on the physician side," French said. "Peyronie's is an issue that not a lot of people know about. We figured this would be a good opportunity for us to test the water on social media."
Cook Medical is the maker of Surgisis Biodesign, a technology used for the replacement and repair of damaged human tissue in surgery. Surgisis Biodesign is used in various procedures, including Peyronie's repair. Surgisis Biodesign is derived from the small intestine of pigs and communicates with the body by signaling surrounding tissue to grow.
Scroll down to see the next article