May 02, 2013
2013 Pharma Report: Don't Look Back!
Download:

Pharma Rep 2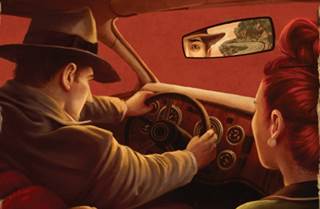 2013 Pharma Report: Don't Look Back!
What's that image fading from view? Pharma just sped through an unprecedented period of patent expiries, during which some $30 billion in brand revenue went over the cliff. But stay focused on the road. Another patent peak, equally scary, lies ahead. Marc Iskowitz reports
The sluggish economy, combined with what Michael Kleinrock, director, research development for the IMS Institute, calls "an unprecedented period of patent expiries," led to a drop in overall drug spend of 1% last year to $325.8 billion—the first time IMS had ever recorded a decrease in US drug sales.
The period from 2008-2012 was the biggest-ever for expiries, says Kleinrock. Following Lipitor's 2011 patent implosion, last year saw the demise of mega-blockbusters like Bristol-Myers Squibb's blood thinner Plavix. The impact is evident on the following list; only half the companies grew US sales.
Kleinrock expects the same minus-one growth in 2013, due to "the carryover of 2012 expiries," before spending rebounds in 2014 and then another patent peak hits. The two peaks—2011-12 and 2014-15—are relatively similar in size, with about $30 billion of lost sales per year for brands.
Milder impact from expiries, breakthrough drug approvals, and healthcare reform will drive spend on prescription drugs to rise by 3-4% in 2014, IMS predicts. Growth will then fall to just over 2% in 2015 and climb again in 2016 to almost 4%.
Why not a return to double-digit growth? Many new drugs target smaller patient populations. Also, generic meds accounted for 84% of prescriptions dispensed in 2012 and, in another five years or so, will probably reach 87%.
"We're at sort of a saturation point," Kleinrock says, where "newer brands with better efficacy will be used, and that will slow down all of these gains that generics are making."
That, and specialty drug prices, spending for which boomed 18.4% last year, according to Express Scripts. "The specialty drugs are less price-sensitive, and we will continue to see the portion of specialty medications grow in the total drug bill," says Jeffrey Russell, North American managing director for Accenture's life sciences practice.
Revenue losses notwithstanding, pharmas have helped shore up profitability and shareholder value by slimming down, doing mega-mergers and in-licensing products. Going forward, what capabilities will help them?
"New products are the key to survival, " says fund manager Les Funtleyder, now with Poliwogg. Some on the list are spending 17-20% of revenues on R&D. Yet, while pipelines have been looking more attractive, R&D attrition rates have risen. And due to major pressures in the pricing and reimbursement area, "The industry can no longer continue to emphasize clinical efficacy and safety requirements to determine which therapies to develop," Russell says.
Commanding higher prices, even for personalized medicines, will take total product value and real-world evidence. If not, pricing levels will not be sustainable.
"We have to do a better job when we bring new products to market," agrees Robert Bazemore, president, Janssen Biotech. "The burden's going to fall much more on us to demonstrate the value these products really add."
Janssen biologics like Remicade helped parent Johnson & Johnson keep US losses in check and to grow global revenue. But with Remicade due to hit the patent wall in 2018, the company exemplifies the pressure the industry faces.
"Many expected industry growth to decline much more than it actually has ended up doing," concludes Kleinrock. "To keep it at only -1% is a pretty big success in a number of ways."
Additional reporting by Matthew Arnold, Deborah Weinstein and Kevin McCaffrey
Next: THE TOP 20 AND ALL THE DATA