December 01, 2011
Leadership Exchange: Multichannel Marketing
Download:

Channel Surfing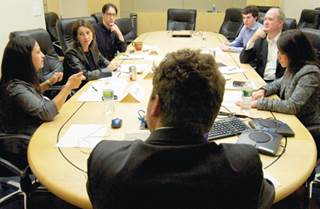 Leadership Exchange: Multichannel Marketing
Debra
: You have set these goals out for a program and you put it into motion, but expected results may not come as fast as you anticipated. But do you want to pull the trigger? Do you want to cut it? Do you want to change something right away? So, research is super important in understanding certain channels but not others, especially when you're innovative about it.
Karl:
I've seen clients employ multichannel marketing without goals in mind. They just kind of turn it on and then, "Let's see how it goes. Let's see what they start digging in to." But then they might say, "Oh, e-mail didn't work." Well, what was your expected return or what was your expected engagement in click-through? There's such an importance to at least setting signposts and tripwires along the way so you can say, "Listen, at x-point if we don't get some sort of engagement, we turn off or we recalibrate it and we see if it was the message or if it's the channel." But oftentimes, people go out there gung-ho, excited, and then they fail because they didn't know what success looked like or what to expect of it. I've also seen programs killed before their time because the proper expectations hadn't been set, either with the brand team or with senior management.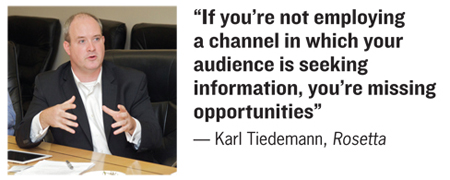 Debra: That's huge. Because if you don't set goals for yourself then how do you know if it's been successful or not? You might be building awareness but you're not seeing prescription lift. But was your goal to build awareness? What mixes of volume were you playing with?

Monique: Are we assuming that multichannel is the gold standard? What about doing one or two things very well? Why assume that having more channels is more influential?

Karl: I think that employing multiple channels acknowledges that there are not only different values to our customers from a brand perspective but that people learn in different ways. I mean, we know more and more that physicians are active with mobile at point of care. They are engaging in websites before, during, after hours. Reps are limited. So I don't think it's that we're saying that you have to cover all channels to have a meaningful relationship with them but until we understand our audiences' preference of engagement, we're missing opportunities. If we all had the biggest budgets in the world we'd just plaster every avenue and see how it goes. But I think that if you employ multichannel marketing successfully, you start with a wider net and then you start focusing in for different patient types. You're able to turn off channels depending on preference. That gives them a customized, personalized experience. So, I'm no longer hitting them with e-mails if they haven't engaged in three or four months. I'm not inviting them to speaker meetings if they've never gone to one. If they go to every conference, I'm going to focus on trying to engage that physician at that point. There's a lot of physicians that are no-see and don't want rep interaction; they want to learn on their own. We just need to help facilitate it.

Debra: First, you have to understand what your issues are and then appropriately segment your budget in order to deal with those specific issues. So, if you have a large managed care challenge and you're not covered on most plans, you may choose a different strategy than a brand that is covered. But once you choose those channels, it's very important to pilot programs. You can do it in a way that while other things are going on that you're doing traditionally, you maybe pilot something that may be a little nontraditional, to see how it works. Then if you start to see the benefits you can roll it out on a larger scale. In certain channels, you can tweak along the way, but with others you know it is going to be a three-month experience.

Karl: Calibration takes discipline. We report on metrics monthly to our clients… about iPad engagement, mobile engagement, website, e-mail, conference, everything. But we encourage our team and the client that we work with not to calibrate more than once a quarter because we want to see trends. You can get skewed by some strange engagements in a month. But one of the benefits —and challenges—as technology advances, is that we have more real-time access to these metrics. It can get you jittery, where you become impatient to wait for trends or to see things.
Next page: Making the investment in research