December 01, 2011
Pipeline 2012: Pharma's Front-Runners
Download:

Pipeline 2012A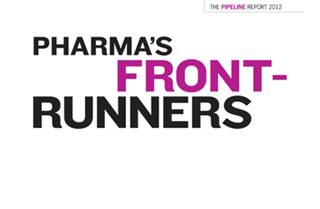 Pipeline 2012: Pharma's Front-Runners
Infectious Disease
PRODUCTS GENERATING BUZZ
BI-201335 Boehringer Ingelheim
Indication: Hepatitis C (Phase III)
What the clinical trials found: In Phase IIb clinical trials, overall rates for sustained viral response (SVR, which is considered cure) reached 83% with this once-daily oral protease inhibitor, when the 240mg dose was taken with pegylated interferon and ribavirin. Safety and tolerability look good.
inThought Approvability Index and Comment: 58%. BI-201335 has early evidence of a good SVR in combination with interferon. Our model expects the first all-oral direct-acting antiviral regimens to enter the US market in late 2015. Once they do, we expect them to become standard of care. Estimated approval: October 2014 (Source: Wolters Kluwer inThought).
inThought revenue forecast: $953 million in peak sales by 2018
What the analysts are saying: The most important thing for HCV therapy is improving efficacy, tolerability and safety, and this drug may help on all three fronts. Recently launched protease inhibitors were associated with significant issues in tolerability and drug-drug interactions. The BI drug also improves convenience with its once-daily dosing vs. the multiple doses of the current protease inhibitors. It's not the Holy Grail for hep. C—an all-oral therapy which is efficacious—because you still need to take interferon, but if it continues to prove tolerable and safe, this will be a very potent competitor. —Will Leskin, SVP, research & consulting, GfK HealthCare
Integrase Single-Tablet Regimen "Quad" (elvitegravir/FTC/TDF/cobicistat) Gilead
Indication: HIV (Preregistration)
What the clinical trials found: The once-daily Quad pill recently met its primary endpoint in terms of noninferiority vs. the standard of care (Atripla). A trial assessing Quad vs. a protease inhibitor (Reyataz) is due to report out soon.
inThought Comment: The fact that it has to have a "booster" (cobicistat) suggests to some doctors that the integrase inhibitor (elvitegravir) was not strong enough to stand on its own. But if it's effective, safe and tolerable, the Quad pill is going to do extremely well in the marketplace (Source: Wolters Kluwer inThought).
Revenue forecast: $1.7 billion by 2018, says ISI Group's Mark Schoenebaum.
What the analysts are saying:
Gilead's Quad pill brings four promising agents, including the first new integrase inhibitor since Merck's Isentress together with Truvada and boosting agent cobicistat—which may prove revolutionary in and of itself if it can beat current protease-inhibitor booster ritonavir (Norvir, Abbott) in tolerability and safety. The Quad would be the company's first completely proprietary one-pill regimen (Gilead's recently approved Complera product combines its drug Truvada with Janssen's Edurant).
—Will Leskin, SVP, research & consulting, GfK HealthCare
KEY INFECTIOUS DISEASE PRODUCTS IN THE PIPELINE
To see this extended list of other key Infectious Disease products in a separate window, click here.
Isavuconazole Astellas
Aspergillosis, candidiasis (Ph. III)
MEDI-3250 AstraZeneca
Influenza vaccine (Prereg.)
Numax AstraZeneca
Resp. syncytial virus inf. (Ph. III)
Zinforo AstraZeneca
Pneumonia/sinus infections (Ph. III)
Daclatasvir (BMS-790052) Bristol-Myers Squibb
HCV, combo therapy (Ph. III)
Ceftolozane/tazobactam Cubist
Gram-negative infections (Ph. III)
Hepatitis B vaccine 1018-ISS conjugate Dynavax
(Ph. III)
Eritoran (E5564) Eisai
Sepsis (Ph. III)
Cobicistat Gilead
HIV/AIDS (Ph. III)
Elvitegravir Gilead
HIV/AIDS (Ph. III)
Emtriva/Viread Gilead
Hepatitis B, combo therapy (Ph. III)
GSK 2321138A GSK
Flu virus vaccine, quadrivalent (Ph. III)
MenHibrix GSK
Meningococcal group C/Y infections (Prereg.)
GSK 2282512A GSK
Quadrivalent seasonal influenza virus vaccine (Ph. III)
H5N1 (pre-)pandemic influenza virus vaccine GSK
(Ph. III)
Dolutegravir (1349572) GSK/Shionogi
HIV/AIDS (Ph. III)
1349572+abacavir+lamivudine GSK
HIV/AIDS (Ph. III)
GSK 2321138A GSK
Flu virus vaccine, quadrivalent (Ph. III)
GSK 1437173A GSK
Varicella zoster vaccine (Ph. III)
Raxibacumab Human Genome Sciences
Anthrax (Ph. III)
TMC435 (simeprevir) Johnson & Johnson
Hepatitis C, combo therapy (Ph. III)
Doribax Johnson & Johnson
Nosocomial pneumonia (Prereg.)
MK-7009 (vaniprevir) Merck
Hepatitis C, combo therapy (Ph. III)
V 212 Merck
Inactivated varicella-zoster vaccine (Ph. III)
V 503 Merck
HPV vaccine (Ph. III)
DTP-HepB-Polio-Hib vaccine Merck/sanofi pasteur
(Ph. III)
Aeroquin Mpex
Levofloxacin inhalation
CF-associated RTI (Ph. III)
Efavirenz/lamivudine/tenofovir disoproxil fumarate Mylan
HIV/AIDS (Ph. III)
Tobramycin dry-powder inhal. Novartis
CF-associated RTI (Ph. III)
Alisporivir Novartis
HCV, combo therapy (Ph. III)
Moxifloxacin/dexamethasone Novartis
General infections (Ph. III)
Fluad Novartis
Flu virus infections, elderly (Ph. III)
Optaflu Novartis
Flu vaccine, cell culture-derived (Ph. III)
Omadacycline Novartis
Skin and soft tissue inf. (Ph. III)
Prulifloxacin Optimer
Gram-negative infections (Ph. III)
Anidulafungin/voriconazole Pfizer
Aspergillosis (Ph. III)
Prevnar 13 Adult Pfizer
Prophylactic vaccine (Prereg.)
PSI-7977 Pharmasset
HCV, all-oral (Ph. III)
Fluzone QIV sanofi pasteur
Flu virus vaccine, quadrivalent (Ph. III)
Quadracel sanofi pasteur
DTaP-poliovirus vaccine pediatric (Ph. III)
ChimeriVax-JE sanofi pasteur
Japanese encephalitis vaccine (Ph. III)
33525 Tinea
Tinea corporis (Ph. III)
VX-222 Vertex
HCV, quad regimen (Ph. III)
Dalbavancin Vicuron
Skin & soft tissue infections (Ph. III)
Nemonoxacin Warner Chilcott
Community-acquired pneumonia (Ph. III)