January 07, 2009
AAFP launches consumer site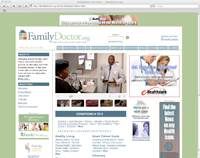 Why should WebMD and EverydayHealth have all the fun? The American Academy of Family Physicians is launching a video-centric consumer site offering peer-reviewed health information in a high-definition, video-on-demand format.
AAFP is partnering with Chicago-based broadcast and interactive production shop AnswersMedia on the ad-supported site, at
familydoctor.org
, in a venture dubbed Primetime HealthNet. The site features English- and Spanish-language content on top health topics and prevalent conditions like diabetes, heart disease, HIV and allergies. Content will be reviewed by medical editors who are family physicians.
AAFP and AnswersMedia plan to add "HIPAA compliant online physician tools that will allow for education-driven communications with patients." For advertisers, the site's offering includes multiple targeted placement positions and will ultimately include "assigned trigger points that lead visitors to bonus content, including promotional content and targeted e-commerce opportunities."
Familydoctor.org already attracts more than 3 million unique users and 5.6 million page views a month, the medical association said, and AAFP is in talks with "a number of prospective distribution channels" including other medical societies, hospitals and pharmacies about syndicating content from the site.
"We think this is going to be a game changer," said Michael Springer, AAFP's VP, publishing and communications."We are witnessing a true media and technology convergence and believe that by putting a trusted physician at the core of information flow, we can increase viewership and visibility for familydoctor.org and create a new venue for advertising, sponsorship and licensing of trusted, in-demand, on-demand health content."
Scroll down to see the next article