February 09, 2009
Sanofi leverages YouTube for diabetics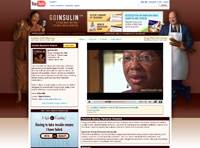 Sanofi-Aventis launched its inaugural YouTube channel on February 4. Titled GoInsulin, the channel features testimonial videos and links to GoInsulin.com, a companion website.
According to Lynn Crowe, Sanofi's senior product manager, metabolism marketing, the company is planning to update content frequently on its first-ever YouTube channel. The launch "is indicative of our belief that expanding social media platforms will play an increasing role with patients, and can be used to effectively deliver information on the risks and benefits of diabetes treatment and care," said Crowe. The campaign, website and YouTube channel were created through a partnership with interactive agency Intouch Solutions, of Overland Park, Kansas.
The channel and website were developed "for the purpose of taking the GoInsulin message to where the diabetes audience and their families are seeking health information," said Crowe. "The non-branded, multi-media, GoInsulin campaign was created to break down barriers and misperceptions about insulin." A robust online media campaign will commence mid-February.
The video commenting function on the YouTube channel has been disabled, though consumers are invited to share their experiences with insulin and diabetes by volunteering to be interviewed. Consumers may request an interview – to be published on GoInsulin.com – by submitting contact information on the website. Sanofi will "contact potential submitters at their discretion," and "has the right to edit each story for publication," according to the website. Not all stories will be used.
Consumers can also receive a free meal planning guide by registering online for more information, or by calling 1-866-GO-INSULIN.
Sanofi's product site for Lantus (www.lantus.com), an insulin injection for type 2 diabetes, was recently ranked number one in terms of consumer satisfaction, according to a Manhattan Research survey.
Scroll down to see the next article