June 10, 2015
Pioneering info portal for doctors turns 20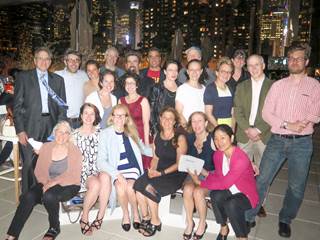 Former and current Medscape employees gathered to celebrate and mark Medscape's milestone 20-year anniversary this week.
Some 25 "Medscapers" from over the years attended the event, held the evening of June 8 at New York City rooftop venue The Terrace, where they reminisced and enjoyed activities like a "Way Back Then" quiz, with a prize and T-shirts donated by sister brand WebMD.
Among those in attendance was Peter Frishauf, who founded Medscape in 1995 and is also a Medical Advertising Hall of Fame inductee. His former firm completed its IPO in 1999, the year the number of registered users reached 600,000.
Another former Medscaper, Odette Veneziano, who started in 1997 as senior director of sales and then stayed on through the acquisition by WebMD and left in 2006, said the reunion gave her a chance to "reconnect and remember this great brand and its people."
"Medscape set the industry standard with some of the first medical, peer-reviewed and CME content," MM&M wrote in 2013. "It featured targeted advertising before most pharma companies even had websites."
In 2000 Medscape was sold to EMR outfit MedicaLogic. A year later WebMD, the consumer health portal, purchased the Medscape brand and media business for $10 million, integrating the professional and patient portals into one business.
Scroll down to see the next article